From our XOXO.. column...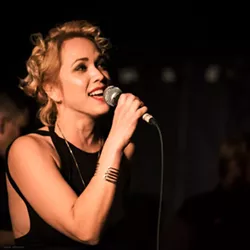 Friday, Feb. 2:
Not everyone can claim to have worked with "The Godmother of Punk Rock" Patti Smith. Guitarist Oliver Ray can. C'mon, is that not enough street cred to get your tired carcass off the couch? Ray—accompanied by Clay Koweek, Thøger Teetens Lund and Anna Jo Phipps—will be previewing songs and poems from his upcoming self-titled solo album. At Exo Bar... People standing up to help others is love supreme. Recently Clay Desmond, guitarist for Black Medicine, lost his nephew Giovanni from rejection of his donor heart at 21 months. Black Medicine, Street Blues Family and The Rifle are putting on an event to raise money for pediatric heart transplant research at Phoenix Children's Hospital. Hearts & Guitars Benefit takes place at The Flycatcher... Ukraine by way of Canada, DJ/producer REZZ (née Isabelle Rezazadeh) took to DJing young. Before long drawing the attention of Skrillex and Deadmau5 with her dark minimalist electronic sound. Her 2017 debut, Mass Manipulation (mau5trap), peaked at No. 15 on Billboard's dance/electronic chart; REZZ was barely old enough to drink legally in most U.S. states. At The Rialto Theater... Over the years, The Octopus Project have gained a reputation as an extremely loud, extremely fun live band. Their performances have evolved into elaborate multimedia experiences. In the process becoming festival favorites at Coachella, Lollapalooza and the once fabulous now erstwhile All Tomorrow's Parties. Memory Mirror (Robot High School), the band's sixth studio album, marks The Octopus Project's evolution from purveyors in raw, thrift-store electronica to cutting edge provocateurs. With New Fumes at 191 Toole... Laura and the Killed Men tie their dusty, twangy country to a creosote hitching post anchored in the desert of the American Southwest. While singer/guitarist Laura Kepner-Adney's voice fires off bullets that reverberate off canyon walls. Celebrating guitarist Sam Golden's return to town, Laura and the Killed Men are gonna party down at Che's Lounge... Propelled by brass, percussion and electric guitar, Santa Pachita's fusion of salsa, cumbia and ska will have your hips shakin' on the rooftop at Playground Bar & Lounge... Über talented songstress Katie Haverly is celebrating the release of her fifth studio album, Pluto, with a soirée at Club Congress. With Jillian and the Giants and Phoenix's House of Stairs...
Saturday, Feb. 3:
Originating in the UK, Stomp is a percussion group that uses found objects—push brooms, hubcaps, hammer handles, garbage cans, Zippo lighters and yes, even the kitchen sink—to create magnificent rhythms and an explosive theatrical performance incorporating pantomime and acrobatics. At Centennial Hall... She is native to Brooklyn. Yet, amidst the Joshua trees and austerity of the California desert Christina LaRocca discovers, in her latest music video, that she is a "Child of the Sun." LaRocca brings her soulful blend of Americana and rock to Nancy's Boondocks... They have traveled the great expanses playing jump, swing and West Coast blues since 2002. Now, catch The Kings of Pleasure jump, jive and wail at Playground Bar & Lounge... "When you throw one Southerner and two Northeasterners into a blender and then pour them out in Los Angeles you get Ned and the Dirt." With Dirt Friends and Half-Broke Town at Club Congress... Known for his Chicago house, acid jazz and downtempo work. He's received props from URB, Muzik and BPM magazines recognized as one of the world's best DJs. Mark Farina's 2016 album, Mushroom Jazz Eight, hit No. 1 on Billboard's Top dance/electronic chart. Watch Farina cut at 191 Toole...
Sunday, Feb. 4:
Her story is compelling. A life that includes being trampled by a horse and a car accident that paralyzed her right vocal cord. As a child, Mary James (aka Mean Mary) practiced guitar, banjo and fiddle five hours a day. A wunderkind, she started performing on a daily Alabama TV show while in the second grade. Now, she hosts Nashville reality TV show The Never-Ending Street. Not busy enough? James is out touring in support of her latest book Hell Is Naked (co-authored with Jean James). Which has spun into an album: Blazing: Hell Is Naked Soundtrack (Woodrock Records, 2017). Americana/bluegrass/folk artist Mean Mary stops to catch her breath at Monterey Court... Playground Bar & Lounge have put together a winning combination: Trumpets & Tequila. With Mariachi Luz De Luna up on the rooftop... DJ Brad Moontribe believes in the transformative power of music and collective dance. He sees the role of DJ not simply as selector and technician but that of artist and shaman. With Elliot Tierney and NoodleBox at Galactic Center...