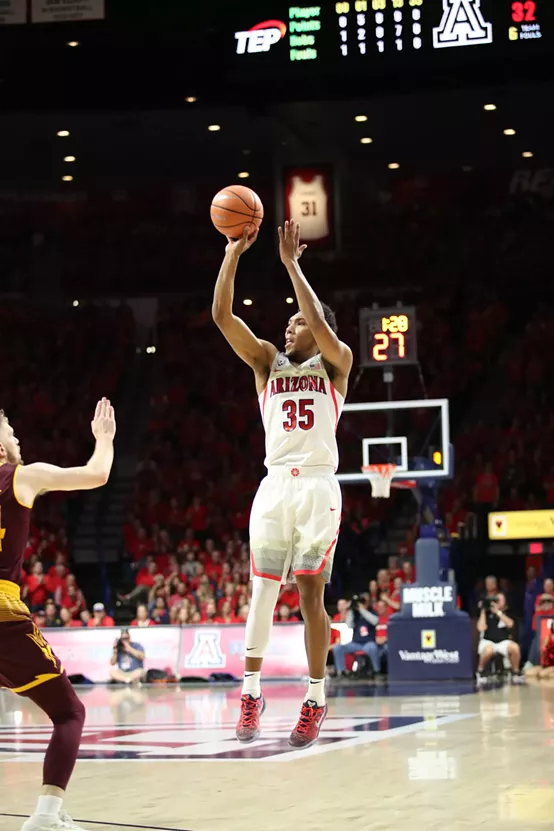 We've reached the unofficial halfway point of the Pac-12 conference schedule, with one of the more harrowing road trips on the horizon for Sean Miller and company.
The Wildcats (18-4, 8-1), venture some 1,300 miles Wednesday, to one of the most remote campuses in the Lower 48: Washington State University.
They'll then zip another 300 miles for Saturday's clash against a much-improved Washington Huskies squad that is third in the conference, at 5-3.
The distance, combined with back-to-back late-night tip offs—with Wednesday's game scheduled to tip off at 8 p.m. local time, while Saturday's is scheduled for 8:30 p.m.—makes The Evergreen State a tough one for opposing teams.
The games will test Miller's squad, fresh off a hard-earned sweep of Colorado and Utah last weekend—with Washington State's three-point barrage and Washington's suffocating zone defense looking the stuff of nightmares.

Miller certainly isn't underestimating the Cougars or Huskies—even though the former enters Wednesday's clash ranked 11th in the conference, at 1-7.
"What we can control is this week, we can go to Pullman and be a prepared team and play really well so the things we're talking about right here," Miller said "[We must] take care of the basketball and be really consistent—because Washington State does an exceptional job of utilizing the
three-point shot."
Cougar bait
Coach Ernie Kent's Cougars do, indeed, rely heavily on the deep ball—shooting 601 threes in 20 games—67 more than the next closest conference foe.
The Cougars also, despite their bevy of three-point attempts, find themselves near the top of the conference in three-point percentage—shooting 38.6% this season (Arizona, meanwhile, is first in the conference, at 39.2%).
The Cougars are led by the two-headed offensive attack of junior forward Robert Franks, who leads the team in scoring and rebounding, at 17.9 points and 7.1 rebounds per game. Franks, in combo with sophomore guard Malachi Flynn, who averages 14.9 points and a team-high four assists per game, have the skill to punish Miller's defense, should they get lazy in defending the
three-point line.
The Wildcats have not done a great job of defending deep shots so far, with the second-worst three-point percentage defense in the league—with opponents making 35% of their threes so far this season.
Miller has gone 12-2 against the Cougars (winning 12 straight after losing his first two matchups in 2010), and 10-5 against the Huskies (including 8 straight since 2013).
He knows how desperate Kent and company, as well as first-year Washington Coach Mike Hopkins, want to win—especially with Selection Sunday 40 days away.
Miller knows his team, which had its share of issues early in the season—losing three games in as many days in a non-conference tournament in the Bahamas in November—will need to play its best basketball to earn a road sweep.
"Going on the road in conference play is very, very difficult," Miller said. "Someone told me that we've had 12 road sweeps in nine years. I don't know if that's true, but that's a little over one road sweep a year. And we've been near the top of our conference for a while, now. So that shows you how hard it is to go on the road and win games in the Pac-12."
Husky den

Perhaps the toughest conference game of the year looms on Saturday night, when Miller leads the Wildcats into Alaska Airlines Arena at Hec Edmundson Pavilion in Seattle to play the Huskies, who are 15-6 this season.
Miller knows that Hopkins and the Huskies are desperate for a marquee conference win on their home court and expects to get their best shot in Seattle.
"If you look at their zone defense and the talent they have—you know, Mike Hopkins is doing a good job," Miller said. "So, both games for us this week will be hard. That's why winning a regular season conference championship is so fulfilling, because it is so hard to do."
Saturday's game also provides an annual homecoming for junior guard and leading scorer Allonzo Trier—who grew up in Seattle—as well as assistant coach Lorenzo Romar—who coached the Huskies to a 298-195 record in his 15 seasons as a head coach there.
Trier, who is averaging 19.7 points per game, says he's looking forward to playing in front of friends and family on Saturday night, calling the road trip his favorite of the season.
"You know it's the furthest trip for us but it's great being able to go back and playing basically where basketball started for me," Trier said. "And a lot of friends and family will be there to see me that I don't get to see very often."
Trier believes Romar, who originally recruited the guard during his time in Seattle, will get a warm reception from the home crowd on Saturday.
"What he was able to do for that time he was there. I know he goes back to when I was a little kid and getting into basketball," Trier said. "So, he's well-respected and I'm sure he's excited for the homecoming."
How to Watch: Arizona's game against Washington State tips off at 8:30 p.m. local time, while their game against Washington tips at 8 p.m. The Pac-12 Network is carrying both contests.
Who to Watch: From Washington State, keep an eye out for junior forward Robert Franks—who leads the team in scoring (17.9 points) and rebounding (7.1 rebounds per game)—and sophomore guard Malachi Flynn, who is averaging 14.7 points and a team-best four assists per game.
For Washington, keep an eye on a foursome of players averaging in double figures, with freshman guard Jaylen Norwell leading the charge. Norwell, who averages a team-high 16.7 points per game, is joined by juniors Noah Dickerson, David Crisp and Matisse Thybulle on the scoring sheet, with the others averaging 14.2, 11.8 and 11.3 points per game, respectively.
How to Bet: Arizona is an 11.5-point favorite over Washington State. The line for Saturday's game
against Washington hasn't been posted.