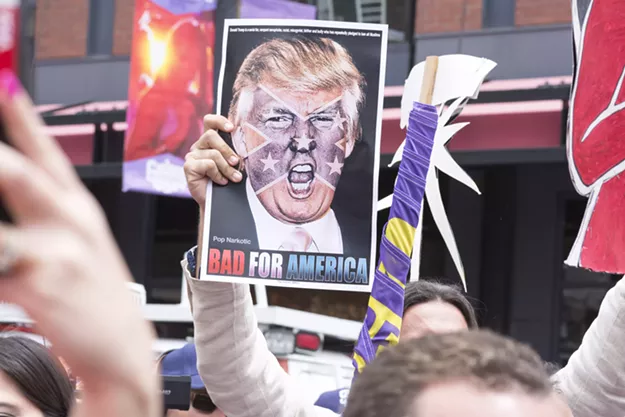 The Phoenix Police Department said they're working on better communication, regarding the launching of pepper ball ammunition and tear gas into protestors during President Donald Trump's August 2017 rally, according to a PPD internal review released on Jan. 29.
The American Civil Liberties Union of Arizona responded by saying PPD "did not protect the First Amendment rights of protesters and caused many people to go home with cuts, bruises, and other injuries."
"There are many videos of officers attacking protesters with pepper spray and projectiles at dangerously close range," said ACLU of Arizona Legal Director Kathy Brody in the press release. "It is shocking and disheartening that the department determined this excessive use of force was justified."
Brody also asked whether the police could have used less volatile methods such as better
amplification equipment to announce "adequate orders before using chemical irritants," why they denied using foam batons on protestors and why the prolonged delay in releasing the report.
"Chief Williams has said that her officers made sure everyone went home safely," Brody said. "The truth is many peaceful protesters went home with injuries caused by her officers. The police are supposed to ensure people can fully exercise their First Amendment rights. On this occasion, the Phoenix Police failed to do that."
Police Chief Jeri Williams wrote in the internal review that communication could be improved on, adding that the police did what they could, and there were minimal injuries and little property damage.
There was also a 2017 Presidential Visit Public Safety After-Action Report issued by the Professional Standards Bureau, released in January 2018, that went through details of the event and citizen feedback.
According to the report, "pepper ball munitions were strategically deployed into the ground in front of ANTIFA" because they were "…pushing the fence and attempted to use the wood supports attached to the signs as levers in an effort to topple the pedestrian fencing."
The report says that prior to this action, water bottles were being thrown and community groups and organizers were being contacted, including those that identified as ANTIFA. The report says they were warned but didn't respond and gathered behind large signs. Then an unknown object, identified as tear gas canisters, was thrown towards police.
According to the report, smoke was used to encourage people to stop "their illegal activities" and to leave. When the group thought to be ANTIFA continued to retaliate, tear gas was employed, affecting their not only their targets but also peaceful bystanders.
The report said bystanders complaints included "excessive force, insufficient warning prior to the deploying of chemical munitions, and targeting those assembled peacefully."