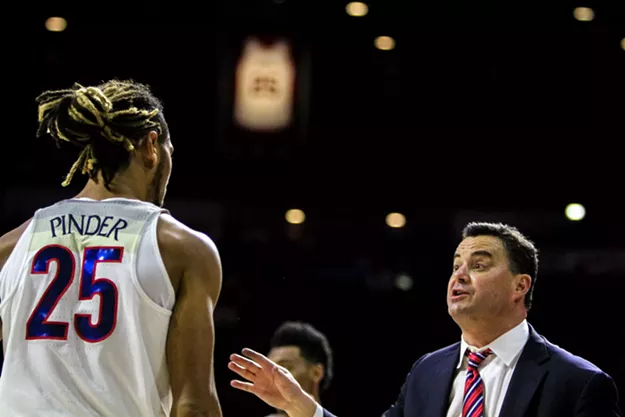 It's been 19 days since Colorado Coach Tad Boyle's shot—err, statement heard 'round the world.
Boyle, who has led the Buffaloes to a 161-102 record in his nine-year reign in Boulder, ushered the now-infamous comments in the immediate aftermath of his team's stunning 80-77 upset of Sean Miller's squad—the Wildcats first (and of now, only) conference loss.
Boyle is well-known for his off-the-cuff, oft-blunt commentary and didn't mince his words in his postgame press conference, when asked by a reporter about whether he took pleasure in beating Miller's team, along with the USC Trojans, especially considering their place in the ongoing FBI investigation.
"Absolutely," Boyle said. "Absolutely. It's ironic we're playing Arizona. I've got great respect for Sean Miller and the type of coach he is. They recruit very, very well. USC has recruited very, very well. The two most talented teams in our league from top to bottom are USC and Arizona. So,
hell yes there's extra satisfaction."
Boyle went on to praise Miller, along with USC Coach Andy Enfield, for their continued success in the Conference of Champions—but certainly didn't contain his excitement either.
"I've got great respect for Sean, helluva coach. I've got great respect for Andy Enfield. But to answer your question: Hell yes."
Miller, for his part, didn't ruffle feathers when asked if he felt extra motivation to clobber Boyle like a dollar-store steak during Monday's weekly press conference.
"My focus is just on coaching our team. …We have to be a better team this time around, more ready for the game than we were the last time," Miller said. "And that's my focus."
Let the beef commence!

The airing of on-court grievances will once again be on full display at 6:30 tonight—when the 11th-ranked Wildcats (16-4, 6-1) host the Buffs (12-8, 4-4).
The blinding LED lights of McKale Center will no doubt be fixed on the two sideline fixtures, especially if Arizona has a large lead late in the contest.
Miller, who is well-known for his penchant for twisting the knife when given the chance (see last year's UCLA kerfuffle)—may very well send a symbolic message that cuts across the court and region tonight, should Arizona have a large lead.
The motto of the night, to quote HBO's infamous Baltimore-centered show "The Wire," has to be: "You come at the king, you best not miss."

How to Watch:
Arizona and Colorado will face off at 6:30 p.m. tonight, with Fox Sports 1 airing the game.
How to Bet:
Arizona is a 14-point favorite to beat Colorado, according to the bookies in Las Vegas. College basketball guru Ken Pomeroy gives Arizona an 88 percent chance of
winning.
Players to Watch:
Colorado's offense, which ranks 179th in points per game (74.1), is led by freshman McKinley Wright IV, senior George King and junior Namon Wright—who average 14.9, 14.2 and 11.6 points per game, respectively.