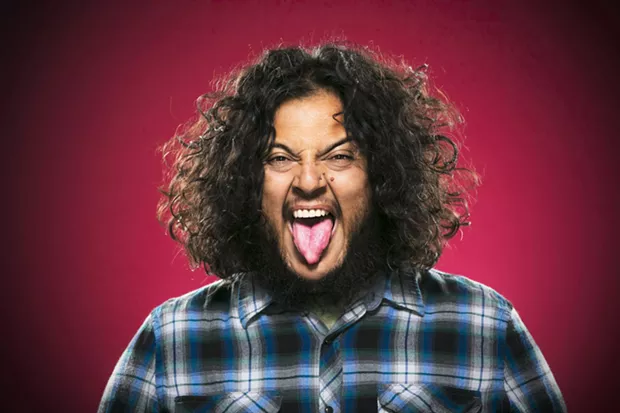 Tough luck kid makes comedy gold.

Whatever else Bill Cosby may have done, we owe him the unique, improbable and occasionally perilous career of Felipe Esparza.
Based on a Cosby record he loved as a child, Esparza wanted to be a comedian. It was all he could think of when a rehab counselor asked him to list five goals for his future. At 18, he'd already had the kind of life that leads inevitably to rehab, if not to jail.
But Esparza cared enough about comedy to work the next 16 years in the salt mines of comedy oblivion, plying his craft in small clubs until he could open for the likes of Gabriel Iglesias and Paul Rodriguez. In 2010, he busted out of obscurity as a winner in Last Comic Standing. He went on to produce two, hour-long comedy specials, one on Netflix and one for HBO. He's been the spokesperson for a national Honda campaign and a national campaign for Target Mobile.
Many fans know Esparza from his recurring TV roles on The Eric Andre Show; NBC's Superstore, TruTV's World's Dumbest and Russell Simmons Presents Stand-Up at the El Rey.He now hosts a popular podcast called What's Up Fool, on the All Things Comedy Network.
Esparza performs at the Desert Diamond Casino's Diamond Center in Sahuarita at 8 p.m., Saturday, Jan. 27. Tickets for the age-18-and-older show are $20 to $40, available at startickets.com.
Hi, ho, Steve!
A bone-hard progressive, I expected to rant about how a farcical shadow of the Lone Ranger's sidekick, Tonto, misrepresents our Native American friends and neighbors in Gaslight Theatre's production The Lone Stranger. But even the magnificent equine Silver is an articulated brown cardboard affair named Steve, so it's complicated.
I laughed, hard, with this seasoned company of fine melodramatic actors, who sing and dance with more finesse than we could expect. The word "Indian" never comes up. "Renegades" harry a wagon train with arrows for a minute, but the real villain is a greedy, rich white guy after Nell's ranch.
"Tonka", played by the ever scene-stealing Joe Cooper, is the smartest and funniest of the bumbling cast of characters. His outfit is hardly more outlandish than others', but I winced at his stereotypical broken English. It would be funnier if he'd learned perfect English with, say, a Swedish or Italian accent.
And if Tonka can't have a horse, the production should at least give him a motorcycle.