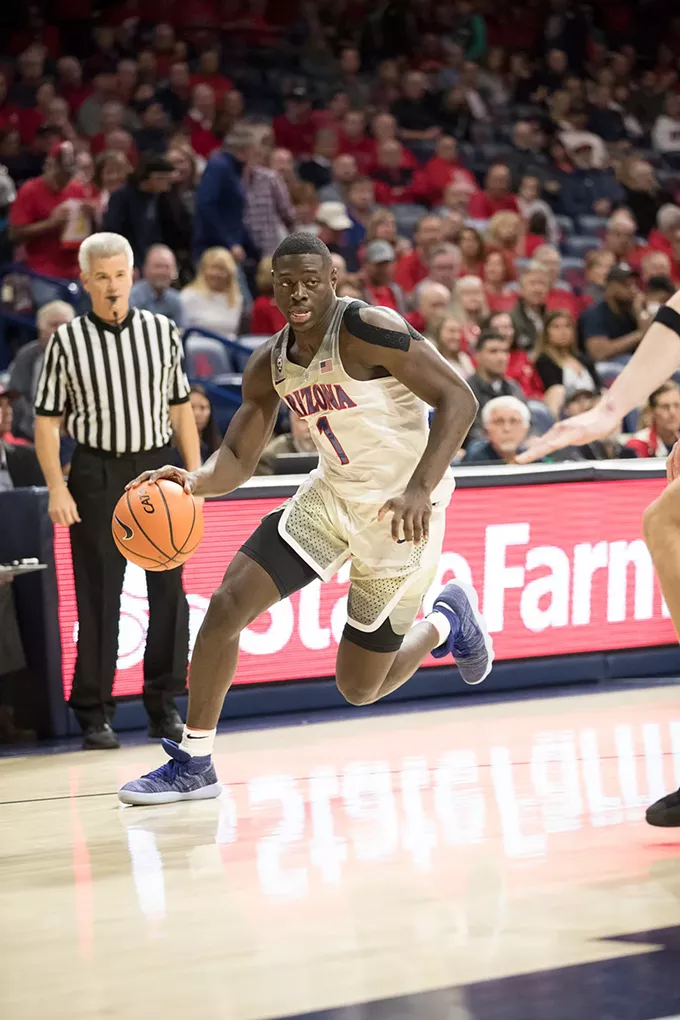 The fate of the Arizona Wildcats flipped on a highlight reel, rim-rattling dunk by sophomore guard Rawle Alkins.
Alkins, who finished Thursday's game against Oregon State with 11 points on 4-9 shooting, poked the ball loose from OSU guard Stephen Thompson Jr.

What happened next sent the 14,000-plus people in attendanceat McKale Center ablaze, as the Brooklyn native soared through the Arizona night—slamming home a reverse dunk to give Arizona a 29-26 lead.
Alkins, who missed the Wildcats' first eight games with a broken foot, was rather nonchalant about the slam, laughing with teammates as he sprinted back on defense.
The rest, to use Alkins' words in his post-game press conference, was "all adrenaline," as the Wildcats' attacking defense drove the Beavers into oblivion, outscoring Oregon State 41-31 in the game's latter half.

"They doubled the guy on the pick and roll, and I tried to read the guy's eyes, and I just read 'em," Alkins said. "I got the steal, and I had a lot of adrenalin. Before I got hurt, that used to be my favorite dunk, so I was us like whatever."
Alkins' slam, in combination with a dynamic offensive performance turned in by fellow guard Allonzo Trier, propelled Arizona to a 70-62 victory, on a night with almost as many turnovers (27) as field goals (44).

Trier and the Wildcats recovered from a dismal offensive start, shooting 9-24 (37.5 percent) against the Beavers' zone defense.
Trier commended the Beavers for their ability to slow the game's pace to their liking, forcing Arizona to play a bogged-down, half court style of offense that tested their morale.
"Teams are slowing the game down against us, really taking their time on offense, having really long possessions, and everybody has been playing match-up zone," Trier said. "We're working on it in practice. We're doing the right things. We'll continue to get better."
Defensive mettle
Arizona Coach Sean Miller was proud of his team's ability to play lockdown defense on Thursday, forcing 16 OSU turnovers and nine steals.
"It was really what I had hoped for," Miller said. "We're a team that's really practicing hard. We've had four really hard days coming off of the Colorado game, and sometimes that's what you need, an opportunity to learn, and there's better learning opportunity than when you fail. And we lost
a game to a team [Colorado] that played very well on that particular day."
Miller knows that starting five of Trier, Alkins, Deandre Ayton, Dusan Ristic and Parker Jackson-Cartwright—who have played in 363 games combined, have work to do to reach their potential, but that they're heading in the right direction.
"We're a work in progress," Miller said. "I wasn't looking to at jumping off any bridges after we lost our last game and certainly not celebrating like we won the Super Bowl here tonight. We have a game here at noon on Saturday, and for us it's so much about continuing to work to improve
and get better."
Duck hunting
The game Miller references is Saturday's noon showdown against Oregon (12-5), who beat 11th-ranked Arizona State 76-72 on Thursday.
The Wildcats have struggled of-late against the Ducks, losing three of its last four to Dana Altman's team—including an 85-58 defeat in Eugene last February, the second-biggest defeat in Miller's nine-year tenure.
Trier knows the Wildcats are in for a 40-minute fight against the Ducks, but thinks they'll be ready to play at high noon on Saturday.
"[Oregon's] been the one team that's had some success coming in here, and they have a lot of confidence when they come in here, so we'll definitely be prepared for a battle Saturday," Trier said. "Oregon's always gonna be a good team. Great coach, so we'll be ready for that challenge."
<!——EndFragment——>