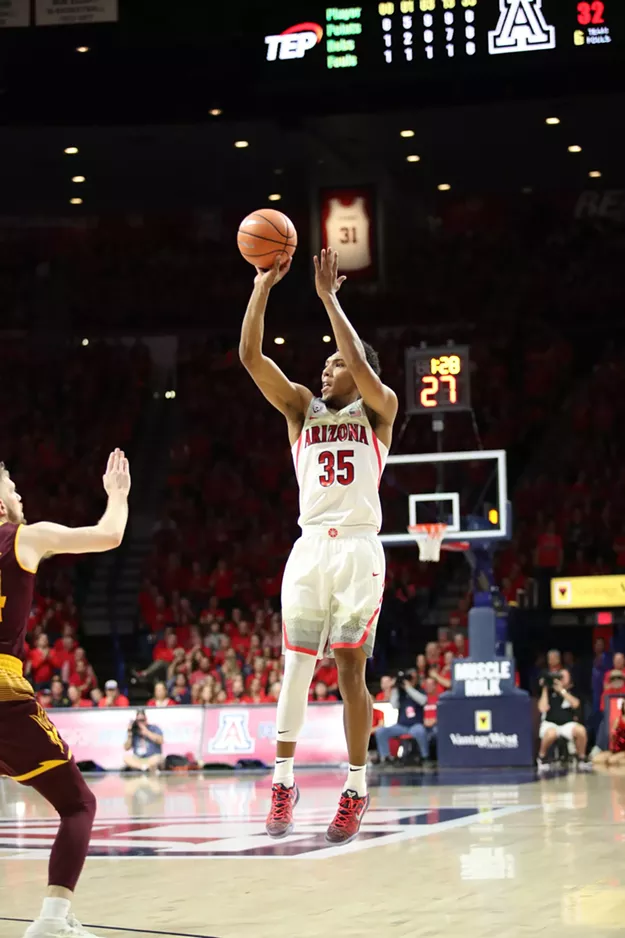 Happy Thursday, ladies and gentlemen of cyberspace. Boy, do we have an underrated doozy of a game at McKale Center tonight, with Oregon State traveling to Tucson to play the 17th-ranked Arizona Wildcats.
It's a matchup of opposites, with the Wildcats featuring a dizzying offensive attack spearheaded by a three-headed monster of Deandre Ayton, Allonzo Trier and Rawle Alkins—who score 20.4, 19.6 and 15.6 points per game, respectively.
The Wildcats (12-4) rank 28th in the nation in points per game (83.8), and rank sixth overall in offensive efficiency, according to Kenpom.com.
The Beavers (10-5), meanwhile, feature a slow-as-molasses offense that only averages 75.3 points per game, good for 161st in the country.
The great equalizer, as always, is on the defensive end—with the Beavers ranking first in the Pac 12 in points allowed (68.6). Arizona, by comparison, is 72.7 per game, which ranks 196th in the country (and fifth in the Pac 12).
The Beavers feature a sneaky-good trio of sophomore Tres Tinkle (son of OSU Coach Wayne Tinkle) and juniors Stephen Thompson Jr. and Drew Eubanks—who average 18.3, 16.5 and 13.8 points per game this season.
The trio came up big in the Beavers' 76-64 win over in-state rival Oregon on Jan. 5, with Tinkle scoring a game-high 19 points, while Thompson scored 16 and Eubanks added 15.
Arizona senior point guard Parker Jackson-Cartwright, who's averaging 7.6 points per game and a team-high 4.9 assists, certainly isn't underestimating the Beavers, especially after their 80-77 loss to Colorado in Boulder last Saturday.
The senior knows how tough the 11 teams Arizona plays in conference play are, and knows that coming out flat is a death sentence against a quality opponent like OSU.
"You think of teams like Washington State and Oregon State. Those teams are playing tremendous," Jackson-Cartwright said. "Like I said, when you don't come out and you don't play hard, or you don't give great effort, you're vulnerable on any given night."
Coach Sean Miller hit a similar narrative, saying the Beavers are much better than their 116th spot in KenPom rankings, which is eighth-best of any team in the conference.
"They're a much improved team, not only from last year to this year, that's obvious, but I think they're a very much improved team from the beginning of the year to now," Miller said. "They seem to be hitting their stride, which makes sense ... I think you can see what I mean when I talk about that they're playing well."
How to watch:
Arizona plays Oregon State at 7 p.m. tonight on the Pac 12 Network. They play Oregon at noon on Saturday on ESPN
How to bet:
Vegas has Arizona as a 15-point favorite against Oregon State. The line for Oregon has not been posted
Who to watch:
From Oregon State, keep an eye on sophomore Tres Tinkle, and juniors Stephen Thompson Jr. and Devin Eubanks. For Oregon, look for Peyton Pritchard, who scores a team-best 15 points per game, and teammate Troy Brown, who scores 12.3 per game and a team-best 7.6 rebounds per game for the Ducks
<!——EndFragment——>