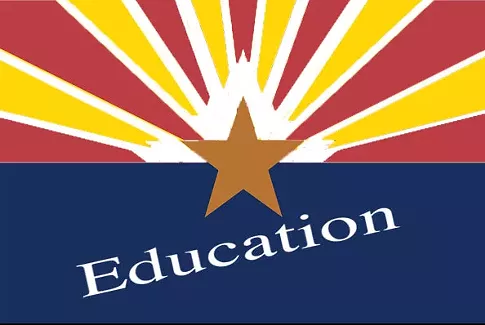 I began blogging almost by accident in 2008. I asked Mike Bryan, the owner, proprietor, sole writer and chief bottle washer for Blog for Arizona if I could write about education on BfA, and he said sure. I imagined myself working in an arcane backwater. Few people would be interested in the details of state and national education legislation, public schools, charter schools, all that kind of stuff that interested me as an educator but wasn't on most people's radar. At best I hoped some teachers and administrators would read what I was writing, and if I could get a few people in the media and Arizona politics to pay attention on occasion, I would consider myself a success.
Instead, a decade later, I find myself writing on The Range and competing with the mainstream media and any number of educational professional and volunteer groups for attention. With politicians as well. The governor touts his focus on improving education. His potential Democratic rivals for the office, Steve Farley and David Garcia, can't bring up the sorry state of education funding often enough.
If it sounds like I'm complaining, far from it. I love seeing the increased attention education has been getting in the state. The more the better. And in case this all sounds like bragging, like I think my blogging has pushed the topic front and center, far from it. I don't take a scintilla of credit. Education has bubbled to the surface in Arizona as one of the most important issues facing our state on its own. Its time has come. That's why our schools are at or near the top of every survey of voters' most important concern.
Weekend articles had headlines like "Arizona Legislature begins Monday with focus on education funding" and "School funding is first priority in new legislative session." A preview of the Ducey's coming address to the legislature has the headline, "State opioid crisis and education funding expected topics, State of the State address." Drug addiction seems like the only topic important enough to share the billing with schools.
I'm writing as I wait to hear our Koch-addicted, self-styled "Education Governor" Ducey deliver his 2018 State of the State Address. I expect Ducey's address to be filled with glittering generalities about the importance of education to our children and the future of the state. I expect him to promise ever more funding for our cash-starved schools. He might try to convince us to dream the impossible dream of raising teacher salaries, spending more money on educational supplies, fixing our crumbling schools and replacing our old buses without raising taxes. "I have in my coat pocket a sheet of paper with the details of a budget putting our school children first," he might tell us, but we won't get to see it until later.
Will he say he plans to "Make our schools great again!"? He may not lay it on that thick. We'll have to see.
Whatever Ducey says about education, it will be fodder for the media, politicians, business groups and education-centered organizations from now until the November elections.