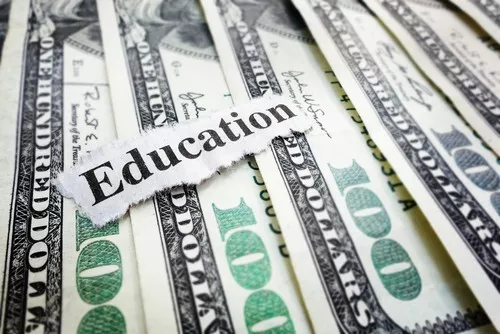 Friday's big education news is a funding package put together by AZ Schools Now to generate $950 million in additional money for schools without increasing the sales tax. That's enough to get us even with where we were in 2008.
Arizona is spending less per student now than it was in 2008 using inflation-adjusted numbers. Exactly how much depends on how you crunch the numbers. AZ Schools Now says it would take a billion dollars, more or less, to get us back to 2008 levels.
A billion, more or less, to get us back where we were. The sad thing is, we've been beggaring our schools for so long, a billion is significantly less than we need. We're at or near the bottom of the country in per-student funding, and adding a billion dollars would only raise us two notches. We'd move past Oklahoma and pull even with Mississippi.
Even though it's not enough, an added billion would mean a hell of a lot to our teachers and students. If we boosted teacher salaries by a few thousand dollars, maybe we could hold on to teachers who are fleeing the state for better pay. And get some credentialed teachers who have left the profession to return to the classroom. And lure a few more college students into teaching programs to increase the future teacher pool. Add in a few dollars more for classroom supplies and equipment, and we'd move closer to giving our children the education they deserve.
But you can be sure our Koch-addicted Governor Ducey, who fancies himself the "education governor," will fight a substantial increase in education funding to his last breath, especially if any of the money comes from income or business taxes. In Ducey's world, if schools get any more money, it has to come from State Land Trust Funds, sales taxes or local taxes. His most solemn pledge is to keep income and business taxes moving downward. Not surprisingly, that's also the bottom line of the Koch Brothers donor network which Ducey counts on to pony up a big pot of money during campaign season.
At the end of last year, Trump and Republicans in Congress were told they had a choice: come up with tax breaks for the rich or No money for you. Ducey knows he's facing a similar ultimatum, and he also knows people are predicting a Democratic wave election in 2018. If the tsunami is big enough, even Arizona could see Republicans swallowed up, especially if they don't have dark money to keep them afloat.
AZ Schools Now suggests that we can avoid increasing sales taxes and still come up with $950 million, but Ducey isn't going to like what he sees. One part of the plan is to stop the phased-in corporate and individual tax cuts. That would keep $22 million in the budget which will be lost if the cuts continue. Another is to have a minimum corporate tax rate of $500, which would raise $17 million. Another is to increase income tax rates for households whose incomes are over $500,000, bringing in $250 million. Yet another is to make sure all taxpayers pay their full share of the qualifying tax rate (QTR), which is used to fund education. That would bring in $208 million. Those items get us about half way to the $950 million goal. Here's
the whole list
.
If Arizona goes this route, taxes on corporations and the one percent go up in some cases and don't go down in others, while our growing income inequality isn't worsened by increasing the regressive sales tax.