Your
Weekly
guide to keeping busy in the Old Pueblo.
Shows
The House of Blue Leaves
. Live Theatre Workshop is kicking off 2018 with a run of The House of Blue Leaves, by John Guare, a play filled with relatable sentiments, historical events and gloriously dark humor. We've got Pope Paul VI visiting New York, the Vietnam War threatening to begin, the birth of Robert Downey Jr., and all of the other wonders of 1965. But this play centers around a zookeeper in Queens who dreams of making it to Hollywood to write songs for the movies. 7:30 p.m. Thursday through Saturday, 3 p.m. Sunday from Thursday, Jan. 4 through Saturday Jan. 10. Live Theatre Workshop, 5317 E. Speedway Blvd. $15 on Jan. 4 and 5, $18 to $20 other shows.
Odyssey Storytelling Presents: Memory
. Let's talk about pasts, ba-by. Let's talk about mem-o-ries. LET'S TALK ABOUT ALL THE GOOD THINGS AND THE BAD THINGS in our his-tor-ies. Odyssey Storytelling is bringing together six storytellers to share 10-minute stories centered around the theme of "memory." You'll hear from a playwright, a writer, a holistic health coach, a comedian and a storyteller who works in (fittingly enough) memory care facilities. It's sure to get you thinking about some of your favorite memories, so that you can be sure to carry the best parts of life forward with you into the new year. 7 to 9 p.m. Thursday, Jan. 4. The Sea of Glass–Center for the Arts, 330 E. Seventh St. $10 regular, $7 students.
Murder in Paradise
. Get ready to solve a mystery, because this show at the Gaslight is interactive as soon as you step in the door—every ticket comes with a new identity. Whodunnit? The weird wife? The sexy movie star? The wacky director? The straight-up bad son? Better bust out your old Encyclopedia Browns to get some practice in, because Detective Wes Chester is going to need your help to solve this heinous crime. First show is Monday, Jan. 8, and show runs through Monday, March. 26. 6 p.m. The Gaslight Music Hall, 13005 N. Oracle Road. $38.95 includes a three-course meal!
Music
Mozart Symphony No. 29
. Start the new year off feeling classy by heading to the orchestra to hear one of Mozart's finest early symphonies, composed for 20th century cello rockstar Mstislav Rostropovich. And, if your new year's resolution involved productivity of any sort, then consider that Mozart composed this when he was only 17. Julian Schwarz will be making his TSO debut with the performance. 7:30 p.m. on Friday, Jan. 5. 2 and 7:30 p.m. on Saturday, Jan. 6. 2 p.m. on Sunday, Jan. 2. Catalina Foothills High School, 4300 E. Sunrise Drive. $22 to $55.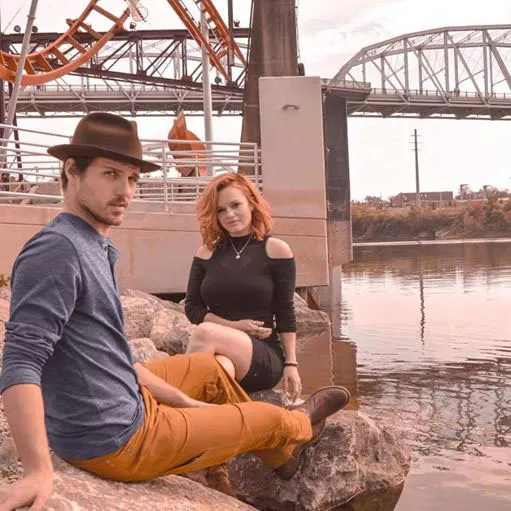 Kata Hay & Dan O'Rourke
. For those about to quirky indie folk, we salute you. The Voice contestant Kata Hay has hit the road with her traveling partner to sing songs for all of us and to live the nomadic lifestyle they're singing about. If you've seen Hay on The Voice, then you know it's worth checking out. 6:30 to 9:30 p.m. Thursday, Jan. 4. Monterey Court, 505 W. Miracle Mile.
Art

"Everything Bird."
This Madaras Gallery event is largely self explanatory. It's a new art show that displays Diana Madaras' bird paintings, which range from songbirds to falcons to gulls. Bird photography by CJ Hockett and gift items with bird images on them will be for sale as well. Plus food and drink! It's sure to be aviary, very good time—bird is the word, after all. Opening reception is 5:30 to 7:30 p.m. on Thursday, Jan. 4. Show will go throughout January. Madras Gallery, 3035 N. Swan Road.
Subspace: Lehman Noviello
. Subspace, a new private studio space in town, is featuring the work of Lehman Noviello for its first exhibition. More than 40 of Noviello's ink drawings, which are sometimes haunting, sometimes moving and always beautiful, will be on display and for sale. Donations are gratefully accepted, and light refreshments will be available. Don't miss your chance to fulfill your dream of being the artsy friend in the group who goes to indie gallery openings on the weekends. 7 to 11 p.m. Saturday, Jan. 6. Seinfeld Warehouse Community Arts Center, 101 W. Sixth St. Free.
Miscellaneous Free Stuff!

First Fridays at the Arizona History Museum
. Not only is admission to AHM free every first Friday, but there's a special program to go along with it that changes each month. January's event? "Legal Codes and Talking Trees: Indigenous Women's Sovereignty." Katrina Jogodinsky will be discussing her book of the same name, the very first to focus on indigenous women of the Southwest and Pacific Northwest and their battle in the 19th and 20th century to inherit property, take legal action for abuse or assault and even raise mixed-race children. It's a fascinating and profound look into one of our country's darker moments. 6 p.m. Friday, Jan. 5. Arizona History Museum, 949 E. Second St. Free.
Valley of the Moon First Saturday Event
. Tucson's most charming corner is celebrating the new year by bringing together Tucsonans to share stories of new beginnings. Do you have a story you'd like to share, or are you looking for a source of inspiration? Do you just want to spend some time in a magical, cozy storybook land? Come by and take a stroll, a deep breath, and a moment. 5 to 8 p.m. Saturday, Jan. 6. Valley of the Moon Tucson, 2544 E. Allen Road. Free.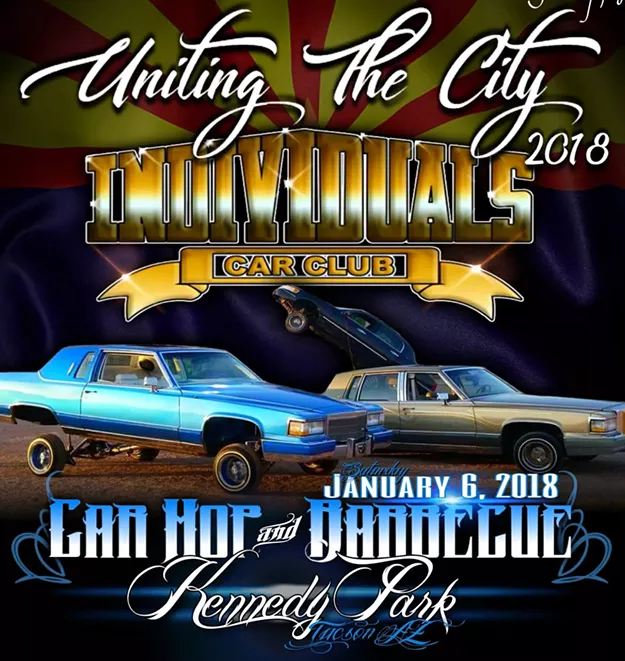 Uniting the City Car Hop & Barbecue
. It's time to say your ABCs, Tucson: A raffle, cool cars, bangin' barbecue. There's nothing like a chance to just get together to enjoy the finer things in life, plus some of the even FINER things in life, like tug of war and a jumping castle. Individuals Car Club is hosting this lovely kick off to what we are all hoping is a lovely year. Or at least not a totally lame one. Noon to 10 p.m. Saturday, Jan. 6. Kennedy Lake, 3700 S. La Cholla Blvd. Free.
Adult Climbing Team free trial session
. Rocks and Ropes is hosting TWO free opportunities to check out the courses, one at the BLOC and one at the downtown location. Be advised that these climbs are appropriate for level 5.8+ climbers, which, according to at least one website, is at the most difficult end of the "beginner" range. So, hey, things could work out for a brave beginner. 7 to 9 p.m. Thursday, Jan. 4. Rocks and Ropes downtown, 330 S. Toole Ave., and the BLOC, 8975 E. Tanque Verde Road. Free.

Yoga, Meditation and Mysticism
Baksana and Beer
. We all know what beer is, but just as a quick refresher, baksana is a yoga pose, also called crane pose or crow pose, where you basically pretend your hands are little feet holding you up, and your shins rest on the backs of your arms. It looks uncomfortable and difficult (at least to our, non-yogaing eyes), but very cool. Anyway, this event will involve an hour of vinyasa, or flow yoga, followed by a beer. So even if you're having trouble channeling your inner crow/crane, you have a cold beer to look forward to at the end. 10:30 a.m. check-in, 10:45 to 11:45 class. Saturday, Jan. 6. Dragoon Brewing Co., 1859 W. Grant Road. $6, cash only please!
Mystic Messengers Psychic Fair
. 2017 threw us some real curveballs, so let's go into 2018 with a better idea of what to expect, shall we? Tucson's top psychics, including astrologers, tarot readers, numerologists, angel readers, oracles and authors, will all be in one place to help you get ready to face the new year. There'll even be a pet psychic to help you build a better, more communicative relationship with your favorite critters. Worth a shot, right? 9 a.m. to 4 p.m. Sunday, Jan. 7. Doubletree Hotel at Reid Park, 445 S. Alvernon Way. Free admission.
Moving Into Stillness
. The Tucson Community Meditation Center is hosting this daylong retreat for meditators and potential meditators of all levels. Lhasa Tizer will lead the day of meditation instruction, alternating periods of sitting and walking meditation, lunch, a Dharma Talk and a Q&A. The event flier has a quote from Bhikishuni Thubten Chodron's "Meditator's Toolbox" that's too good not to share: "When you plant seeds in a garden, you don't dig them up every day to see if they have sprouted yet. You simply water them and clear away the weeds; you know that the seeds will grow in time. Similarly, just do your daily practice and cultivate a kind heart. Abandon impatience and instead be content creating the causes for goodness; the results will come when they're ready." 9:30 a.m. to 4:30 p.m. Sunday, Jan. 7. Tucson Community Meditation Center, 1231 E. Edison. Sliding scale of $20 to $30. No one will be turned away due to inability to pay.
Do Good
Adoption Day at St. Philips Plaza Farmers' Market
. If heading to a farmers market to take a kid under your wing doesn't sound all that fun to you, then let us clarify: it's a day to adopt pets, not humans. Easier and furrier fur sure. It's also a great chance to learn about the volunteer opportunities at HOPE Animal Shelter, so that you can still surround yourself with fur babies even if you're not ready to adopt your own. 9 a.m. to 1 p.m. Sunday, Jan. 7. St. Philip's Plaza Farmers Market, 4280 N. Campbell Ave. Free.
Tucson Interfaith Packathon
. If you just spent your holidays stuffing your face with your family's homemade food, it might be hard to imagine being hungry, maybe ever again. So it's the perfect chance to think about others who are, and to do a little something to help. Get together with people of all faiths, from all over the city, to pack 50,000 meals for the hungry in Tucson in Southern Arizona. It's simple, it's sweet, and it'll make a huge difference for someone. Noon to 3 p.m. Sunday, Jan. 7. Muslim Community Center of Tucson, 5100 N. Kevy Place.
Learn Something New (About Homes and Gardens)
Garden Talks: Fruit Trees
. Want to learn how to grow fruit trees in Tucson? Did you even know it was possible to grow fruit trees in Tucson? Apparently peaches, figs and pomegranates can all grow well in the desert. And a Pima County Master Gardener is coming to tell you how to do it. How often do you water them? What else do they need? What sort of tribal sacrifice do you need to make to keep a plant from dying on you? Only one way to find out. (Well, probably more than one way, but this way will be fun!) 3 to 4:30 p.m. Saturday, Jan. 6. Himmel Park Library, 1035 N. Treat Ave. Free.
Arizona State Home Show 2018
. If you've watched every show you can find on HGTV and have spent hours perusing the aisles of Home Depot, then it's time you took the next step into the addicting world of home improvement. Learn about remodeling! Landscaping! Contracting! Entertainment and technology! Green building! Anything you can think of and probably lots of things you can't, because there will literally be hundreds of vendors at this event. If nothing else, just go to look at all the fancy tile and new-agey products. 10 a.m. to 6 p.m. on Friday, Jan. 5 and Saturday, Jan. 6. 10 a.m. to 4 p.m. on Sunday, Jan. 7. Tucson Convention Center, 260 S. Church Ave.$8 GA, Free for kids under 16 with a paying adult, and for active military. On Friday, seniors (55+) are buy one, get one free.
Nightcrawler
Jae Tilt
. With his nasal-y lilt and ability to quickly change up rhythm and flow, Jae Tilt has hit his voice as a rapper. That ain't easy these days. Always choosing truth-based storytelling in favor of fronting, Jae seeks graceful moments instead of thug-life revelry. He shifts his focus upward to discover ethereal beauty in hardened, impoverished places. "When I think about my background, cold nights sleepin' on the floor like we was camped out," his voice betrays raw emotion, yet co-exists with well-crafted tracks, all laced with melodic, round synths and cut with the perspective of a kid who's seen a "Whole lotta ugly and a little bit of pretty/Whole lotta struggle and a little bit of pity." Reminiscent of East Coast rappers Scarface, Jae follows his third eye, finding "a thousand violins" in the scream of sirens. Dude's a poet of Tucson streets, elevating consciousness in lieu of glorifying nonsense. Full on. With Mike Check$, Marley B & Cash Lansky, Jivin' Scientist & Jaca Zulu. Friday, Jan. 5. The Flycatcher, 340 E Sixth St. Doors at 9 p.m. $7. 21+.
Strangelove
. That hollow echoing voice, urging us toward our "own, personal Jesus," assuring us words "can only do harm." Strange and inexplicably sexual, Depeche Mode has—with relentlessly cold hooks and cranial-thump drum machines—churned out shadow-y pop for nearly four decades. It is easy to see why they're credited as a pioneer of electronic dance music. (They sold more than 100 million records worldwide back in the day, natch.) So, in a way, DM is now classic rock. The new Night Ranger, you might say. (Try NR's "Sister Christine" next to DM's "Judas" in a playlist. Fun!). Hence, Strangelove, a tribute outfit covering material spanning all 17 of DM's UK Top 10 albums. They offer a chance to experience the band's early years in a club setting, grinding out singsongs in 2018, an era when every personal Jesus will be needed to even begin to "touch faith." Strangelove enlists period synths, arcane sequencers, and goes mad lengths to replicate lighting effects of DM stadium shows. With the Cured, Electric Duke and Idol X. Saturday, Jan. 6. Rialto Theatre, 318 E. Congress. Doors at 7 p.m. $20. All Ages
Bugg
. The dressed-down but glacial riff recalls The Breeders. The deadpan vocal sway is pure, virginal Juliana Hatfield. Hailing from Bloomington, Indiana, Bugg considers themselves '90s-alt rock revivalists. (Wait, wasn't '90s alt already reviving earlier …. Oh, whatever … No one cares. All new music is now considered "awesome," anyway.) Their demo made such a stir that the self-titled debut was featured in Vice before it ever dropped on Pop Wig. Of course it was. "He says I could use all the help I can get/Bullshit/She says I could afford a friend or two/Fuck you." Seamlessly blending the sophomoric antiestablishmentarianism of Pavement with gorgeous guitar washes of Hum or The Toadies, Bugg manages balanced call and responses between deliberate apathy and unironic guitar anthems. Less jaded than their '90s predecessors, this music is still, strangely, satisfyingly nostalgic. With catchier riffs than choruses, and a Midwestern earnestness that Malkmus and Kim Deal miss, it's easy to be persuaded. Now, when's the D Generation and Del Amitri mashup combo coming? With Narrow Head, and Tucson's Hikikomori. Thursday, Jan. 11. Hotel Congress, 311 E. Congress. Doors at 7 p.m. 21+. Free.