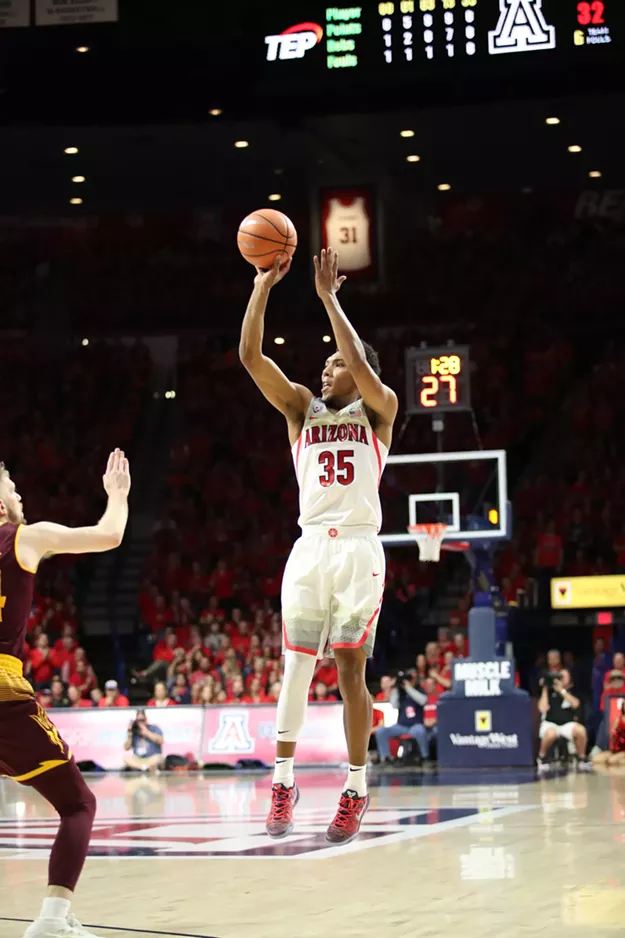 It's beginning to look a lot like March, at least for those that follow the Arizona Wildcats basketball team.
The Cats, fresh off an 84-78 win over in-state rival ASU, are 11-3 on the year and have won eight straight games.
They've done so by lighting up the LED scoreboard of McKale like a dollar-store piñata—averaging 83.2 points per game, while surrendering 69 points per game during said streak.
The Wildcats put their recent luck on the line, first against Utah at 7 p.m. tonight from the unfriendly confines of Huntsman Arena in Salt Lake City.
They then will hop over the majestic Rocky Mountains to visit the most overrated college town in America, Boulder. (Can you tell I went to CSU yet?) They play the Buffs at noon on Saturday.
The Utes (11-3, 2-0) have an uncanny ability to adjust their offensive tempo, depending on their opponent, scoring 80+ points in six of their 13 games, while also scoring 66 points in wins over Oregon and Oregon State last weekend.

The Buffaloes, meanwhile, sit at 8-6 for the year, having lost their last three games—against Iowa, Oregon State and Oregon by a combined score of 233-192.
It's the first time Sean Miller and company have ventured to the Rocky Mountain schools since getting swept in 2015.
That trip included a 70-64 loss to the Utes, the Wildcats' first against Utah since the 1998 NCAA Tournament.
Miller didn't seem too worried about his team's mindset heading into the clash, telling reporters in Tuesday's press conference that this year's squad is completely different from the one that fell at Huntsman 23 months ago.
"That was, like, 15 years ago," Miller said. "It's irrelevant to the world today. Obama used to be the president. Trump is now. Khalil Tate is the quarterback. Remember when [Rod] Gronkowski was here? Sean Elliott used to play here; it doesn't have much to do with today."
Whether there will be a hangover of sorts for the Wildcats after the high-energy defeat of the then-undefeated Sun Devils is yet to be seen, but rest assured that Sean Miller totally doesn't have any hard feelings about their last meeting in the Wasatch.
How to Watch: Tonight's game against Utah is on ESPN at 7 p.m. Saturday's game against Colorado is on the Pac 12 Network at noon.
How to Bet: Arizona is favored by 3.5 over Utah. The line against Colorado has not been released.
Who to Watch: Keep an eye on Utah's David Collette and Justin Bibbins, who average 13.2 and 13.1 points per game, respectively. Senior Tyler Rawson could also be a thorn in Miller's side, averaging 11 points per game this season. Colorado's McKinley Wright IV is the player to watch, averaging 16 points, 5 rebounds and 4.9 assists per game. Senior George King is another name to watch in Saturday's game, as the senior has scored in double figures in 11 of the Buffs' 14 games,
averaging 13.2 points per game this season.
<!——EndFragment——>