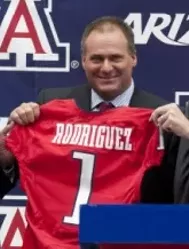 The University of Arizona fired football coach Rich Rodriguez Tuesday, according to a UA press release.
No exact reason was given for the school's decision, though the university will honor the separation terms of Rodriguez's contract, which include a $10.2 million buyout, according to USA Today.
Director of Athletics Dave Heeke cited the school's investigation into allegations of sexual harassment against Rodriguez, which began in October.
That investigation, according to Heeke, did not find that Rodriguez posed any danger to members of the community, though the alleged victim chose to pursue further litigation.
"As a result, we have been reviewing the findings and deliberating our course of action. While this is a difficult decision, it is the right decision. And it is a decision that lives up to the core values of the University of Arizona," Heeke said.
Update
: Rodriguez took to Twitter Tuesday to release a statement regarding the UA's investigation.
He discussed a complaint by a former administrative assistant, who threatened to file a $7.5 million lawsuit alleging harassment.
Rodriguez said he cooperated with the 10-week-long investigation, taking a voluntary polygraph test, which he passed.
He admitted to have an extramarital affair with a woman not affiliated with the university and expressed regret for his conduct.
"It was wrong, and I have apologized to my wife and family. I am still working incredibly hard to repair the bonds I've broken and regain the trust of my wife and children, whom i love dearly," Rodriguez said.
Rodriguez thanked his staff and players for their commitment and effort during his tenure, and vowed to fight against the claims made against him going forward.
There is no timetable for naming Rodriguez's replacement, though the National Signing Day for high school players is Feb. 7.
Here's the UA statement:
Dear Students, Faculty and Staff:

Today is a difficult day for the University of Arizona but also a day on which we reaffirm our commitment to our values — and to ourselves.

This evening, we informed Head Football Coach Rich Rodriguez that we have terminated his employment effective immediately and will honor the separation terms of his contract. The decision is based on several factors, including the direction and climate of our football program.

Let us share with you what we are able to at this time.

In October 2017, the University's Office of Institutional Equity retained outside counsel to investigate allegations of sexual harassment against Mr. Rodriguez, after a former employee in the Department of Athletics alleged that Mr. Rodriguez harassed her on multiple occasions. Like all University employees, Mr. Rodriguez is entitled to a fair investigation and due process and at no time has the University believed that Mr. Rodriguez posed any danger to a member of the community.

The law firm of Cohen Dowd Quigley was retained by the Office of Institutional Equity to conduct a comprehensive investigation into the allegations made by the former employee, and that investigation began in October. After her initial report to the University in October, the former employee retained counsel and declined multiple requests from the University to participate in the investigation into her allegations. In addition, she was unwilling to turn over communications that she alleged provided support for her allegations and recently filed a notice of a financial claim against Mr. Rodriguez.

The investigation, which concluded on December 28, 2017, found that the original specific harassment allegations against Mr. Rodriguez could not be substantiated based on the evidence and witnesses available to it. However, Arizona Athletics did become aware of information, both before and during the investigation, which caused it to be concerned with the direction and climate of the football program.

As a result, we have been reviewing the findings and deliberating our course of action. While this is a difficult decision, it is the right decision. And it is a decision that lives up to the core values of the University of Arizona.

We have outstanding young men in our football program and tremendous employees who will continue to work hard on behalf of the Arizona family. We are confident that we will find a new leader of our program who will take us to great heights with men and women of character and talent, on and off of the field.

Sincerely,
Robert C. Robbins
President
Dave Heeke
Director of Athletics