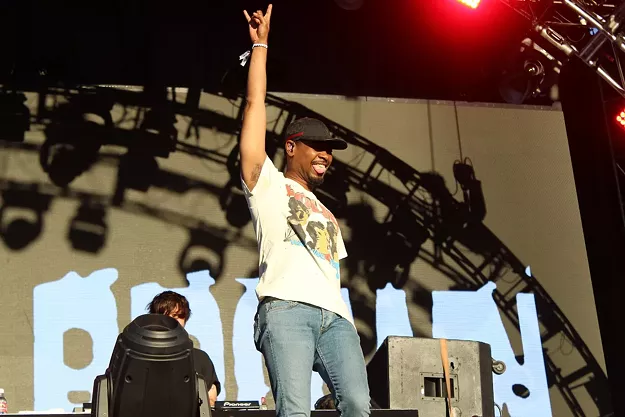 Danny Brown is hip-hop's punk phase: a complete rebellion from the genre's norms and style. Not only was his gold chain replaced by a grungy The Police t-shirt, but Black Sabbath's "Iron Man" played for his arrival onstage. This isn't to say he wasn't rapping—he certainly was, with fantastic delivery and sometimes hilarious, sometimes shocking word play.
The most impressive aspect is Danny's ability to rap consistently at all, considering the frantic and frenzied nature of many of his songs. From wild, blaring horns to broken, lonely electronics, most musicians wouldn't even know when to start singing in the first place, let alone unleash line after line of chaotic poetry.
To truly understand a Danny Brown concert, look no further than his most recent album,
Atrocity Exhibition
. Right from the title (a Joy Division reference) you can expect depictions of horror, addiction, and madness. And these were all in his set. Though perhaps the most disconcerting aspect wasn't the atrocities he sang about, but how much fun he had doing it. From call-and-response singing with the crowd, running amok on stage, and sticking his tongue out like a mocking demon, Danny was as much of an entertainer as he was an antagonist.
Here's a man who will treat a downward spiral like a rollercoaster ride and laugh the whole way through.
"Funny how it happens
Who ever would imagine
The joke's on you
But Satan's the one laughing"

— from Danny Brown's "Ain't It Funny"