Your
Weekly
guide to keeping busy in the Old Pueblo.
Rodeo: Apparently School Needs to be Cancelled for this
Rodeo Break Kids Camp
: Yeehaw! Calling all cowboys and cowgirls in Tucson who love riding horses and wearing big floppy hats. This is a camp for you! Lasso into camp by learning everyone's favorite modern western dance - the Cotton Eyed Joe. Campers will be able to play western-themed games and snacks will be provided too. Space is limited so if you are interested in signing up and getting out in that warm Tucson sun, you better hurry! Ages 3-5 years who are potty trained to 12 years old. 8:30 p.m. Thursday- 3:30 p.m. Friday. Thursday, Feb. 23- Friday, Feb. 24. Heart and Soul Kids Activity Center, 8363 N. Oracle Rd. $5 Early drop off. 7:30 - 8:30 p.m./ $5 Late pick up 3:30 - 5:30 p.m./ 1 Day of camp: $65/ 2 Days: $120/ 10 percent discount on siblings.
92nd Annual Tucson Rodeo Parade
: It's that time of year again! Break out the cowboy boots and hats for our country's largest non-motorized parade. Check out the rodeo royalty, decorated floats, performers, mariachis and marching bands. This year's parade features approximately 2,500 people and 650 horses. The parade is free and begins at 9 a.m. but be sure to arrive early to grab a spot along the 2.5 mile route. If you want a guaranteed view of the parade, grandstand seating is available for purchase. It includes pre-parade entertainment from the Pinnacle Peak Pistoleros, Sons of Orpheus Men's Chorus and Mariachi Aztlan de Pueblo High School. Grandstands open at 7 a.m. and the entertainment starts at 8 a.m. Thursday, Feb. 23. Parade is free. Grandstand seating is $10 for adults and $5 for children 12 and under.
2nd Annual Buffalo Bill Cody Days
: Bring the whole family to commemorate the 100th anniversary of the death of this Old West legend. The weekend will be filled with presentations, entertainment, movies, book talks and a treasure hunt for children. You might even strike it rich after entering the free jewelry drawing for silver and gold mined from right here in the Santa Catalina Mountains. 1 - 5 p.m. Saturday, Feb. 25.- Sunday, Feb. 26. Oracle Inn Steakhouse, 305 E. American, Oracle, AZ. Free.
Community
Bride to Bride Flea Market
: So, you're getting married. Congratulations! A lot of men and women have a vision of their picture-perfect wedding day. But those table settings, chalk boards and decorations price tags can really add up. Enter the Bride to Bride Flea Market, an Omaha-based group on a mission to help women ditch their unwanted wedding left overs and help brides deck out their upcoming celebrations for a fraction of the cost. Have some wedding swag you don't need any more? Message the group's Facebook page and see if you can offer up some matrimonial goodies and help make another bride-to-be's wedding more special. 10 a.m. - 1 p.m. Saturday, Feb. 25. Tucson Convention Center, 260 S. Church Ave. $5.
Black Lives Matter
: Rebels, Radicals and Revolutionaries: Celebrate Black History Month and revel in stories of past rebellion and resistance. Local artists Lando Chill and M.C. Salvador will be entertaining with live music as well. 4 p.m. Sunday, Feb. 26. La Cocina Restaurant and Cocina, 201 N. Court Ave. $5- $10 donation at the door.

Willcox Wine Country Tour
: Grapes, alcohol and the vineyard
– doesn't get better than that. Grab your best pals and head out to the farm side of the desert to a fun day of wine tasting. Discover the many wines and types of grapes there are that you might not have even heard of. So join Sonoran Tasting Tours and visit the many tasting rooms in downtown Willcox. The tour will include transportation, glasses, tasting fees and a lunch with snacks! This is the perfect event to get away for the weekend and spend it with great friends and for those of you who think Las Vegas is overrated for turning 21, check this out as a fun alternative! 9 a.m. - 5 p.m. Saturday, Feb. 25. Sonoran Tasting Tours, Casas Adobes. $99 per person.


AIDS/LifeCycle DJ Dance Cardio Fundraiser
: Join BreakOut Studios in a DJ Dance Cardio fundraiser for a chance to get up and move while also giving back for a good cause. Todd Wilson will be teaching volunteers some fun dance moves and donations will be accepted to help four riders reach their goal and cycle in California this upcoming June. AIDS/LifeCycle is a 7-day bike ride from San Francisco to Los Angeles to raise money and awareness in the fight against HIV/AIDS. Each year, people come together for this life changing experience and the best part is that you don't need to be on the same fitness level as most cyclists are. Here's your chance to do an act of heroism, go sight-seeing and stay fit! 5 - 8 p.m. Sunday, Feb. 26. BreakOut Studios, 4340 N. Campbell Ave. Bring money for donations.
Cinema

Tucson Women's Comedy Festival
Improv Movement for storytelling, improv comedy and standup comedy featuring some Tucson's funniest gals. If you are interested in laughing until you cry, tickets are available at https://www.tucsonimprov.com/twcf. 9 p.m. Thursday, Feb. 23. Tucson Improv Movement, 329 E. 7th St. $5.

Oscar Nominated Animated Short Films 2017
: For all you movie nerds and Oscar junkies, this is an event for you. As we all know the 89th Annual Academy Awards is around the corner and by preparing to see your favorite films win awards, you can visit The Loft to watch nominated short films before the big event. The best part is you can eat Girl Scout cookies and drink beer, what a combo! Bring a pen and paper so you can predict winners for the awards while also a chance to win free passes to The Loft. Don't forget to vote for your favorite nominees such as La La Land or Manchester by the Sea! 7:30 p.m. Thursday, Feb. 23. The Loft Cinema, 3233 E. Speedway Blvd. General Admission: $10/ Loft Members: $8.
Marvel Trivia Night
: Calling all comic book nerds and superhero film fans – have you REALLY memorized every detail about Spider-Man and the Avengers? Form a team and put your knowledge to the test in this Marvel Cinematic Universe trivia competition. The night will celebrate the DVD and Blu-Ray release of Marvel's Doctor Strange. The top three teams will win a prize. Also enjoy a draught beer or Sonoran hotdog from the You Sly Dog food truck.
7 - 10 p.m. Tuesday, Feb. 28. Casa Video Film Bar, 2905 E. Speedway Blvd. Free. Food and beer available for purchase.
Arts and Culture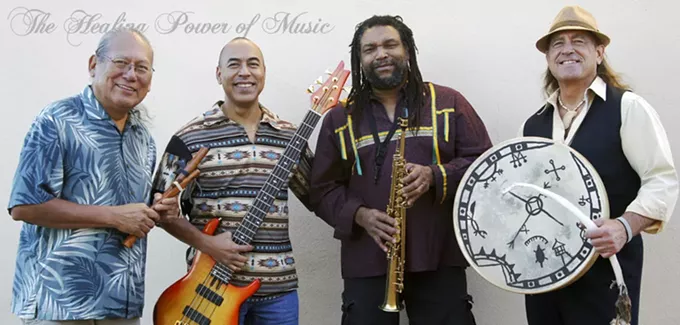 The Healing Power of Music
: Ever wonder what all the fuss is about over the health advantages of listening to music? Find out at this three-day event featuring the Grammy-nominated R. Carlos Nakai Quartet, Gabriel Ayala Quintet, Tiamo De Vettori and over 30 other performers. Come listen to Dr. Melinda Connor explain how music affects the brain and body, and former NASA consultant Mark Romero describe how songs reduce stress, improve physical energy and provide other health benefits. Fri. 7-9 p.m., Sat. 10 a.m. -9:30 p.m., Sun. 10 a.m.-5 p.m. Friday, Feb. 24. - Sunday, Feb. 26. Edward B. Berger Performing Arts Center, 1200 W. Speedway Blvd. $25-$150.
Frida al Fresco Friday
: If you really like plants, art and poetry, you will love the Frida Kahlo: Art, Garden, Life exhibit that Tucson is having the honor of hosting all the way from New York's botanical gardens. The exhibit is a recreation of the gardens that Kahlo maintained in her home in Mexico City called La Casa Azul. The tour will take you on a representation of the Mexican culture that would have been a part of Frida Kahlo's surroundings in Central Mexico. There will be a puppet theater for children and at night, a farmers market will be present with food, drinks, live music, look-alike contests, flower crowns and much more, creating an exciting cultural celebration every month. Reservations not required. Tickets available at the door. 5-8 p.m. Friday, Feb. 24. Tucson Botanical Gardens, 2150 N. Alvernon Way. Bring money for tickets, food and drinks.

Country Roads- A John Denver Tribute
: Tribute artist Ted Vigil takes the stage to perform some of John Denver's most popular songs. Vigil is a recipient of the Rising Legend Award by the National Traditional Country Music Association. If you love Denver's music, you simply cannot miss this event! Purchase tickets
online
. 3 p.m. and 7 p.m. Saturday, Feb. 25. The Gaslight Music Hall, 13005 N. Oracle Road. Adults: $25, Children: $13, Student/Senior/Military discounts available.
Paint Night at Rincon Market
: Ever thought you are the next Picasso? Well show off your skills at the next paint night event and bring all your friends! As Bob Ross would say, "all you need to paint is a few tools, a little instruction, and a vision in your mind." On the last Monday of every month, you and a bunch of your closest friends can sit around and learn how to paint the same picture. The instructor will provide all the painting tools so all you need to bring is money for booze! The class will be held Monday, February 27 from 6 p.m. to 9 p.m. Price is $35 a person and includes a glass of wine, beer, or non-alcoholic beverage of your choice. Call (520) 327-6653 to R.S.V.P.

Music
Priests
: All hail Washington D.C.'s Priests for being one of the few bands unafraid now to take asshole-ian behavior to task—to write stinging protest songs—and not go on bended knee for corporate choad. (Listen to "Pink White House." It's 2017's first great anti-"cash-grab" anthem, complete with a challenging sense of asexual sexuality). Their melody-driven slams—bursting with tortured surf and art-damaged skronk—have caught fire with legions of kids across this on-fire nation, and it's no wonder. Priests are blessed with one of those punk-rock X-factors, a preternatural allure that makes you want to know more, hear more, see more, and singer Katie Alice Greer commands like she slipped from the womb already a frontwoman. Together since 2011, this multi-gender quintet, whose album collections must be stocked with old Banshees, X-Ray Spex and Sleater-Kinney, already deserve to be uttered in the same hot breath of D.C. legends like Bikini Kill, Fugazi, and the Dismemberment Plan. With Olivia Neutron-John on Friday, Feb. 24 at 191 Toole. $12-13. 8 p.m. All ages.
New Years Day
: This band on first sight is just so Warped Tour—they're white and pretty, they formed in Anaheim, and their songs are crammed with stadium riffs, tommy-gun kick-drum fills, goth tones, and soaring choruses that hit just on this side of pop. They sport dyed manes that fall over faces at angles, wear big shoes and have slender hips. You'd see them when the sun was still out, not headlining, but not at 1 p.m. either. What makes them great, and why they do good tour and song business, is singer Ash Costello, who founded the band back in '05. She's a peculiar mix of pouty suburban strip-bar sexuality and best-friend next door. It's a heady blend, and she's smart, backs up the sass and innocence with true songcraft and a voice that offers a real range of emotions, from tender to hard ass. This isn't some one-note Warped band. They should be bigger. With Attila and Before I Die, Bad Omens, Cane Hill on Saturday, Feb. 26 at The Rialto Theatre, 318 E. Congress. $19-$28. 7 p.m. All ages.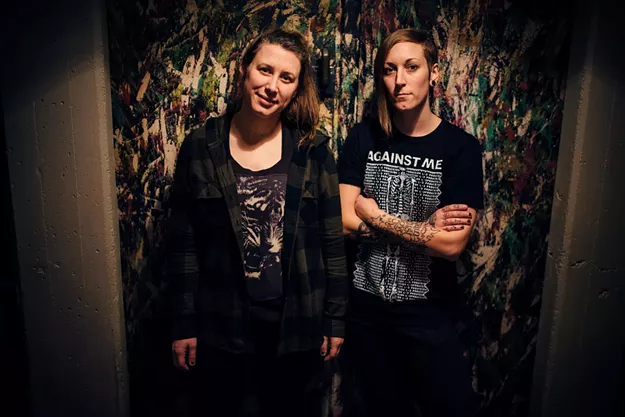 Mobina Galore
: Not since The Distillers and The Muffs have we heard a punk-rock singer who actually had us worried about the condition of her vocal cords. But man can this Mobina Galore singer/guitarist Jenna shout with the gutsy aplomb of any punk screamo we've ever heard, male or female. What's more, her singing ain't in vain, and it ain't a pose. The voice befits the songs, which rise and fall on glorious crunch-pop riffs and kickass sloganeering choruses. More impressive: this all-female Canadian combo is, shockingly, a duo, and they rock harder, with bigger hooks and more balls, than pretty much any all-teste combo out there. Their latest LP, Feeling Disconnected (New Damage Records), is out this week. See them with Against Me! on Tuesday, Feb. 28 at The Rialto Theatre, 318 E. Congress. $20-$22. 7 p.m. All ages.
Nano
: Be forewarned that the ambient, sort of languid shoegaze and electronic pop and blips created by Lano can lull you into a kind of pseudo-opiatic trance, even if you have narcotics in your system. See, Lano's songs—as heard on her home-recorded (and aptly titled) 2016 album Subtle—give gentle goosebumps while sweetly upholding the kind of voice you'd want whispering to you late at night when you've either ingested too much molly or are pretty close to 5k on the sheep-count meter. She's the flipside to amped up. It's graceful, full of beauty. See her in the flesh at The Flycatcher, 340 E. 6th St., on Monday, Feb. 27, with Herbert Walker, The Gayboys, and Miss Abysmal. 9 p.m. 21+. Free.
The Staves
: The Staves do everything right. For starters, this trio worked with godhead father-son producers Ethan and Glyn Johns (who collectively produced the best bands on earth), toured with Bon Iver and even backed Tom Jones (Tom Jones, yup). And they pull from a long tradition of British and Yankee folk, from Fairport Convention to Judee Sill to Crosby, Stills, Nash & Young, while their effortless roundelay harmonies recall Simon & Garfunkel, and they've learned lessons from the Paul Simon book of songcraft. More, their show-stopping cover of The Boss's "I'm On Fire" is worth the price of admission, any admission. These three women are that good, and their songwriting—aching confessionals by not-yet-world-weary twentysomethings—uphold plenty of tender mercies. More than one-million monthly spins (and rising) on Spotify can't be wrong. With honey-voiced indie darling Mikaela Davis on Saturday, Feb. 25 at Club Congress, 311 E. Congress. 7 p.m. $15. All ages.
Jonny Rosch and Friends Featuring Steve Cropper
: American R&B and rock 'n' roll would've sounded a lot different had these folks never existed. That's not hyperbole. Dig it: Steve Cropper pretty defined the sound of the guitar of the American south by virtue of being a Stax house band (um, that would be Booker T. & the M.G's, yo) and his appearances on the greatest sides in American music (Otis Redding, Wilson Pickett and, well, pretty much anything Stax put out). His guitar skill overshadowed his songwriting brilliance (he co-wrote "In the Midnight Hour" and "(Sittin' On) The Dock of the Bay," for example) and role as producer (from John Prine to Harry Nilsson!). He of course played himself in the Blues Brothers movie, and John Lennon ripped him off. The others: Singer Jonny Rosch was a studious session cat and also a Blues Brother. Drummer Jimmy Fox founded The James Gang while Jeff Pevar backed Ray Charles, Crosby Stills & Nash and Rickie Lee Jones, and bassist Sue Williams played with Clapton, Sheryl Crow, and so on … This is a rare opportunity to see folks who created the din that upheld legends, but who are now mostly unsung legends themselves. On Friday, Feb. 24 at Club Congress, 311 E. Congress. $25-$32. 7 p.m. 21+.