Monday, October 31, 2016
Posted

By

Bryan Orozco on

Mon, Oct 31, 2016

at

6:00 PM

Create a mask, lantern, float, altar, or other object to carry at the processon—with no artistic experience required and no age limit. If you have something in mind for the procession and would like to make that idea a reality, the workshops is the place to do that.

The organizers said it best when it came to why people come out to the procession:
The Procession is a sanctuary for community members from all walks of life to express their grief and loss in a celebration of creative energy and rejoicing of life.

The workshops will continue on Wednesday Nov. 2 from 5 p.m. to 9 p.m. and Saturday Nov. 5 from 9 a.m. to 1 p.m. at the Funeraria Del Angel (7 E. University Blvd.).
For more information, visit the All Souls Procession Workshops Facebook
page.
The All Souls Procession is inviting everyone to join them for the last of their All Souls Workshops.
Posted

By

David Safier on

Mon, Oct 31, 2016

at

4:44 PM

Over at Blog for Arizona, Linda Lyon does a better job discussing the issue than I could hope to. Read her excellent post,

In Defense of Full-Day K

. As an added bonus, at the end of the post, former Ed Supe John Huppenthal chimes in with a comment citing a study which, he claims, explains to her why she's partly right but not as well informed as she should be. After which, I quote another source which discusses the limitations of the study Huppenthal cites.

I can't resist adding one footnote from

Howard Fischer's article

on the subject. Full day kindergarten was funded in 2005 when Democrat Janet Napolitano was governor. She made a horse trade, giving Republicans the 10 percent cut in state income taxes they wanted in return for full day kindergarten. So far so good. But when money got tight in 2009, the Republican-majority legislature pulled the funding for full-day K, but it held onto the 10 percent tax cut, which, apparently, it figured it still could afford. For Arizona Republicans, investing in children's educations, and their futures, is something of a yawn. But, to paraphrase segregationist George Wallace's words, "Tax cuts now, tax cuts tomorrow, tax cuts forever."

Funding full day kindergarten across the state is back in the news. This being Arizona, the discussion is a mix of the reasonable, the semi-reasonable, the semi-ridiculous and the totally ridiculous. Whether anything will come of it, whether the legislature is willing to commit about $200 million of new money to the enterprise—money that isn't stolen from some equally valuable program—is in doubt. But it's good to see people are talking.
Posted

By

Chelo Grubb on

Mon, Oct 31, 2016

at

11:30 AM

Nutcracker

,

Perseus and Andromeda

and

La Bayadere.

Interested in scoring tickets to these performances? Watch this spot: We'll be doing giveaways all season long. This year our readers voted Ballet Tucson the

best local dance company

, so you know they're good.

Right now we're giving away a pair of tickets to the

Opening Night Gala

on Friday, Nov. 18 and the two pairs of tickets to the

Fall Concert

, which will be performed Nov. 19-20.

Enter below, and we'll get in touch with winners on Friday, Nov. 4:

Local ballet fans have a lot to look forward to this year, with Ballet Tucson already promoting upcoming performances of the


I have officially lived at HSSA for over two months and I can't wait to find my forever home!

I'm a handsome, 4-year-old boy and I need a new home! I was found as a stray so HSSA doesn't know a lot about my history, but what they do know is that I'm very strong and need a home that is willing to give me ample exercise and play time!

If you're looking for a sweet and loyal boy I might be the perfect dog for your home!

Contact the Humane Society of Southern Arizona Main Campus at 327-6088 ext. 173 to check on my availability and exact location!

Lots of love,
Ivan (831011)


Hi again, remember me? I'm Ivan!
Posted

By

Bob Grimm on

Mon, Oct 31, 2016

at

9:10 AM


I'm starting to develop a big time like for director Kelly Reichardt.

Wendy and Lucy, Meek's Cutoff, Night Moves and now this, a well-crafted movie based on short stories by Maile Meloy.

Three stories featuring Laura Dern, Kristin Stewart and Michelle Williams intertwine in less-than-obvious ways, with stellar performances from all. Dern plays a lawyer who finds herself with an unruly client (Jared Harris) she either can't help, or doesn't want to help. Michelle Williams plays a wife building a new house while her husband (James LeGros is alive!) acts all disenchanted. Kristin Stewart chimes in as a woman teaching a class she knows nothing about while an unauthorized student (Lily Gladstone) takes a shine to her.

Gladstone, a relative newcomer, is nothing less than outstanding in her awkward scenes with Stewart, who continues to impress in indie roles. Williams, who has worked with Reichardt a few times before, lights up the screen, even when her character is somber. Dern reminds that she is still one of the best actresses on the planet.

The movie is deliberately paced, and Reichardt has a way of presenting a scene without telegraphing what is going to happen, or demanding we feel or react a certain way as viewers. She let's her films breathe, and it's both masterful and daring.


Friday, October 28, 2016
Posted

By

Bob Grimm on

Fri, Oct 28, 2016

at

1:30 PM


This plays out like a deranged Batman-with-a-calculator action flick. Ben Affleck plays Christian Wolff, a high functioning autistic man who has managed to harness his extreme intelligence with numbers and physical tics down into the strangest of professions. By day, he's your average accountant helping a farm owner find tax loopholes to save a few thousand bucks. At night, he's some sort of accountant ninja who can take out a room full of mob guys with a dinner knife and some totally Batman forearm blasts to the face. Christian takes jobs laundering books for dirty folks all over the world and, while he does have a modest, sparsely decorated home, he also has a mobile man cave (or, should I say, Batcave) that keeps all the spoils of his riches—money, gold, Jackson Pollock paintings and, yes, collector's items like Batman comic books. During one job trying to find missing money for a prosthetics company led by the guy from Dressed to Kill (John Lithgow), he takes a liking to fellow accountant Dana (the invaluable Anna Kendrick), and they conspire to find the missing money, which, of course, wasn't really supposed to happen. Maybe I'm the only one who sees this movie as Batman doing taxes. Maybe that makes me some sort of amateurish idiot who likes movies that are actually a little on the bad side just because they play out in a weird way in his overreaching mind. If so, I say "Hooray!" to that. My ability to make a movie something else in my head means I have a better chance of making my movie ticket money well spent instead of blown dollars, like the money I blew on that The Girl on the Train piece of shit.




Posted

By

David Safier on

Fri, Oct 28, 2016

at

12:47 PM

worthwhile column

for anyone who wants to learn more about the twists and turns of what he calls this "mean and ugly" TUSD board race. There's lots worth discussing in the column, but I want to focus on a short quote from Mark Stegeman where he kind-of denies wanting to close more schools, with one possible exception.
"I have said repeatedly, for several years, that closures are not on my agenda, with the possible exception of one high school, since we never reached the question of closing any of our 10 major high schools. It is also not on TUSD's current agenda; it is a completely made-up issue."
So, according to Stegeman, he has no closures on his "agenda." Interesting word, "agenda." It doesn't mean he's against more closures. It just means it's not foremost in his mind right now. Currently, he's not considering putting the issue on a TUSD board agenda. In the future? Who knows?
Except, he might seriously consider closing a high school, though since that's not on the "current agenda," it also shouldn't be talked about right now. He might bring it up soon, but not now.
He sums up by saying the whole closure thing "is a completely made-up issue." The reason is, it's "not on TUSD's current agenda." Of course, board members are elected to four year terms, which means they'll be making decisions long after the "current agenda" is history, so their view on all issues related to the district, including school closures, is a real issue. But Stegeman doesn't want to discuss that right now.
I've written that I think Stegeman should be voted off the board because of his game-player's strategy of taking positions, not so much because he agrees with them, but more because he wants to create alliances to build a power base which will increase his influence in district decision making. His short quote in Steller's column with all its positions and half-positions is a good example. It allows Stegeman to argue that he's on anyone's side, depending on who he's talking to at the moment. If you're trying to figure out where Stegeman stands on the issue of school closures in the near or far term using this quote, you have your work cut out for you.
Tim Steller has a
Thursday, October 27, 2016
Posted

By

Chelo Grubb on

Thu, Oct 27, 2016

at

1:00 PM

Today's the day! The results are in for Best of Tucson. You can read up on the winners

here

, but you should pick up a physical copy and keep it in your glove compartment for the next time you find yourself in need of a veterinarian, comic book or a really good veggie burger.

The o

ther

reason you should pick up a copy of the paper is to enjoy the lotería cards our in-house graphic designer Oliver Muñoz made for the issue. It's been a few years since we've had any made-for-Best-Of-Tucson illustrations, and we're pretty excited about it.

Below is a slideshow of the 11 cards (we're just 43 cards short of a functional deck!) and the cover Oliver made for us.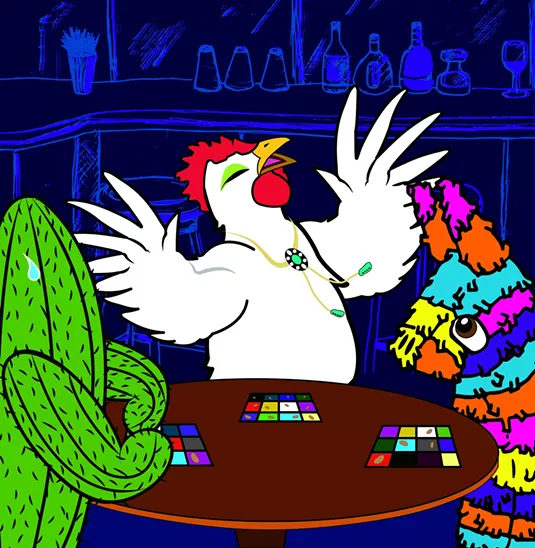 12 slides