There are plenty of ballots left to be counted, but Matt Heinz has the lead in the race that will determine the Democrat who will take on Republican Congresswoman Martha McSally in CD2 this November. Heinz, who raised significantly more money than Victoria Steele and ran a traditional campaign versus Steele's low-budget, grassroots effort, has 53 percent of the vote and a lead of 2,886 votes, as of the last time we were able to access the Secretary of State's very buggy website. (Those damn Russian hackers sure have screwed that up tonight.)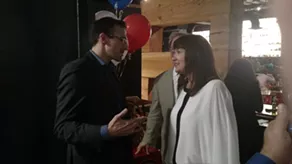 Heinz told
TW
correspondent Nick Meyers he was feeling good after campaigning for the last 13 months. "There's a lot of excitement and a positive vibe here."
Steele said watching the results come in was nerve-wracking but she was ready to support Heinz if he came out on top. "If he wins, I'll support him. If I win, I know he'll support me. We have grown-up races in the Democratic Party."
McSally, a rising star in the GOP, has more than $2 million on hand and the advantage of incumbency, but the district is one of the most competitive in the nation and Democrats hope that an anti-Trump wave could yet sink McSally. Recognizing the danger that Trump poses despite her advantages, McSally has said that she won't endorse the GOP nominee and won't reveal who she plans to vote for in November.
Over in CD1, Pinal County Sheriff Paul Babeu is leading a crowded field, with Wendy Rogers coming in second place. Rogers had hammered Babeu about allegations that he had been aware of abuse that was taking place at a school where he served as an administrator and had landed the support of two of Babeu's sisters.
Expect that story to be amplified as the DCCC and other groups start spending TV dollars in support of Democrat Tom O'Halleran, who served in the Arizona Legislature as a moderate Republican and who switched parties to seek the congressional seat.
O'Halleran himself was talking about ethics before he went to bed on Election Night.
"Now that the primary is over, it's time for a real conversation about how we can improve the ethical climate in Congress," O'Halleran said in a prepared statement. "Over the next few weeks, I will visit every corner of our district to lead that conversation. I've released a ten-point ethics plan, and it stands in sharp contrast to Paul Babeu, who has been caught repeatedly abusing his power, and using the public's money for his own personal and political gain."
DCCC Chair Ben Ray Luján echoed the theme of ethics in his prepared statement on the race.
"Democrats have proven cycle after cycle that we know how to win this critical district," Lujan said. "As a former police officer, business owner, and public servant, Tom O'Halleran brought members of both parties together to improve Arizona schools and fully fund all-day kindergarten. Now he's running with a concrete ethics plan that stands in stark contrast to any of the embattled Republicans that will emerge from their divisive primary. We're confident that Tom will run a winning campaign based on the issues that matter to hardworking Arizonans."
The district, which includes Oro Valley and Marana as well as most of eastern rural Arizona, Flagstaff and the Navajo reservation, remains one of the most competitive in the nation, although Ann Kirkpatrick won it twice as a moderate Dem. To get an idea of what the polls are showing, watch to see whether the NRCC starts spending money here.
For now, the NRCC is behind Babeu. NRCC Chair Greg Walden had this to say in a prepared statement: "Congratulations to Sheriff Paul Babeu on his primary victory. Paul has dedicated himself to serving Arizona as both a lawman and member of the Army National Guard, keeping America safe at home and abroad. I am confident voters will recognize Paul's experienced leadership and service to his community, and send him to fight for them in Washington this November."