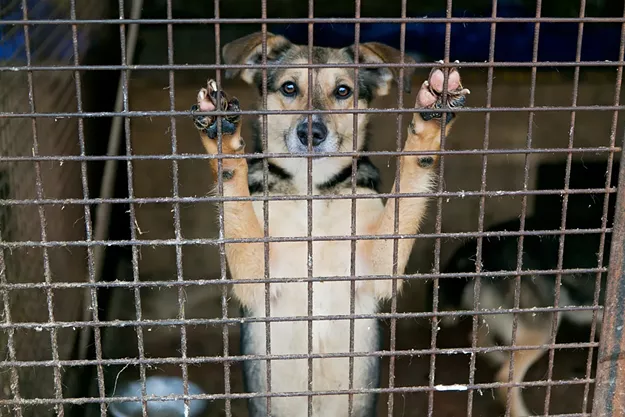 Put kitty litter and a box of dog treats on your grocery list because you're getting a new pet.
This Saturday, Aug. 6, Hermitage No Kill Cat Shelter, the Humane Society of Southern Arizona, Pima Paws for Life, and Pima Animal Care Center are participating in an Adopt, Don't Shop event.
The date of the adoption event matches up with the date SB 1248 takes effect. An "Adopt, Don't Shop" press release says:
"Adopt, Don't Shop" day also marks the effective date of Arizona's harmful pro-puppy mill law, SB 1248. The law will prohibit cities, towns and counties from enacting ordinances banning the sale of commercially raised dogs and cats in pet stores and will void ordinances in Phoenix and Tempe. Due to the law, a draft pet store ordinance in Tucson that was pending the outcome of a lawsuit against the City of Phoenix will no longer take effect.

The public can avoid supporting cruel puppy mills by never buying a puppy in a pet store. Most pet store puppies come from commercial breeding facilities that force animals to spend their entire breeding lives in cramped wire cages, to have minimal food and water, to be exposed to extreme temperatures for prolonged periods of time, and to be given only minimal veterinary, dental care and grooming. Other pet stores who sell dogs and cats sourced locally are likely paying unlicensed "back-yard" breeders to produce popular breeds so that they have stock year round. These puppies and kittens leave the stores unaltered, unlike shelter-sourced animals, which must be altered before leaving. This practice contributes to the homeless pet issue and the costs to taxpayers and rescues.

Here's what Tucson shelters have in store for Saturday:
Hermitage No-Kill Cat Shelter and Sanctuary
5278 E. 21st Street, 571-7839
Kitties for half the normal price: Kittens: $45,
Cats 1 to 7 years: $30,
Cats 7 and older/special needs: $5.
Gifts bags
Pokestop
Trivia game
Humane Society of Southern Arizona
Main Campus: 3450 N Kelvin Blvd, 11 a.m. – 6 p.m.
PAWSH La Encantada Shopping Center: 10 a.m. – 8 p.m.
PAWSH Park Place Mall: 10 a.m. – 6 p.m.
PetsMart Orange Grove and River: 10 a.m. – 4 p. m 5
$25 off adoptions
Pima Animal Care Center
4000 N. Silverbell Road
Free adoptions at the main shelter and participating PetsMart locations
Mini Fair from 10 a.m. - 1 p.m. featuring:
Food trucks
Kids Center (games and prizes)
Pet retail giveaways from PetsMart and Central Pet
D.J.
Outreach Booth
Free Gift for every 10th adopter
Pokestop
Pima Paws for Life
2555 W. Zinnia Ave. 520.867.
10 a.m.-5p.m.
Prizes for Adopters
Free eegee's
Update:
Linda Nofer, Marketing Director at Companion Pets Inc. (which is associated with the Animal Kingdom store in the Tucson Mall), reached out to me after this blog was published saying there "is much more to
SB 1248
."
From Nofer:
Please note that SB 1248 is not a 'pro-puppy mill law' as stated in your post and actually does the following to ensure that pet stores are indeed NOT buying puppies from puppy mills:

· Pet stores in Arizona are prohibited from obtaining animals from breeders required to have a U.S.D.A. license but do not currently have one.
· Pet stores in Arizona are prohibited from obtaining animals from U.S.D.A. licensed breeders who have committed a "direct violation" of U.S.D.A. regulations within the past two years.
· SB 1248 includes a three-strike penalty for pet store owners who violate the above policies - banning them from working with commercial breeders and mandating they obtain pets only from rescue groups and/or shelters.
· Pet stores in Arizona are required to disclose the source of the animals they sell both in-store and online.
· SB 1248 gives consumers and animal advocates the right and ability to research the sources or breeders supplying puppies/kittens to pet stores.
· SB 1248 prohibits Arizona cities and counties from enacting or enforcing breed-specific dog regulations and gives the state the power to regulate and penalize pet stores.
Nofer also included some comments from Frank Mineo, owner of Puppies 'N Love and Animal Kingdom pet stores in Arizona.
"We will never buy puppies from puppy mills and we go above and beyond even the U.S.D.A. regulations when selecting our breeders. We only buy puppies from breeders whom we know, trust and who treat all of their dogs (puppies and adults alike) with veterinary care and compassion and whose kennels show a commitment to animal welfare," Mineo is quoted as saying in the email. "SB 1248 has the potential to put pet store owners who buy puppies from puppy mills out of business so we support the bill. Puppy mills are deplorable, but putting us out of business does nothing to shut them down, it merely perpetuates a bigger black market for puppies to be sold by unregulated and unscrupulous people with no oversight at all."