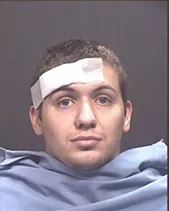 Update:

Jarrad Barnes, 24, has been identified as the driver of vehicle that crossed the median and hit Ann Day's car. At 8 p.m. the day of the accident, Barnes was released from the hospital and booked into the Pima County Jail for one count of manslaughter and driving under the influence. The investigation is ongoing.
Original Story:

Ann Day, former Pima County District 1 Supervisor, was driving her Toyota Prius eastbound on Ina Road when a driver of another car traveling westbound crossed lanes, struck the median and hit her car head on. A truck driving behind Day was unable to stop in time and struck the rear of her car.
Northwest Fire District paramedics transported Day to Banner-UMC Trauma Center where she was pronounced dead.
The driver of the other car and the driver of the truck were both transported to Banner-UMC Trauma Center in serious condition with non-life threatening injuries.
Ina Road at Firenze Drive will remain closed for a few hours while Pima County Sheriff's Department traffic detectives investigate. It is unclear if there will be any charges filed against the drivers.
Day represented District 1 for three terms, from 2000 to 2012. She also served in the Arizona Senate for 10 years.
Board of Supervisors Chair Sharon Bronson, who served with Day all 12 years, said she will miss her "cowgirl" friend.
"I am terribly saddened at the news of Ann Day's tragic passing this morning. She dedicated her life to public service, including honorably serving the people of Pima County for 12 years. She was my friend and colleague and I will deeply miss her cowgirl common sense approach to life and public policy," Bronson said in a news release.
Supervisor Ray Carroll also expressed sadness about Day's death.
"First I want to offer my deepest and most sincere condolences to the family of such a lovely and capable public servant an outstanding citizen. Ann Day and I worked together on some very important issues and she was great. So far, I've never worked with any more of a fine person than Ann Day," Carroll said. "She was elegant and circumspect yet relentless and very upfront about issues that were important to her."