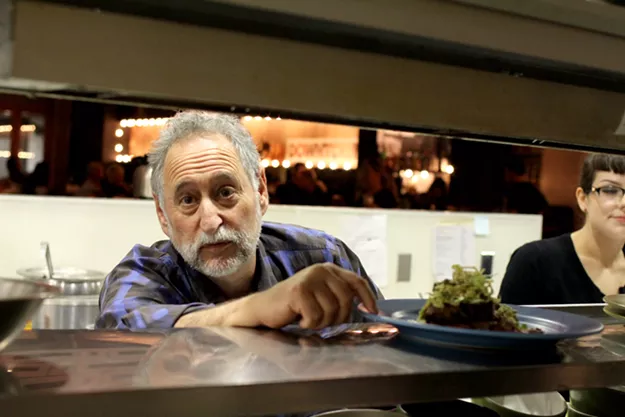 While
this week's Chow feature
taught you all about the
Carriage House
's culinary classes that began the last weekend of February, the multi-purpose space isn't stopping there. With two classes scheduled for this upcoming week alone, the event space is also hosting one of the biggest dinner events in recent Tucson history.
On Sunday, March 6, the City of Gastronomy Downtown Chef's Table will see ten of the Old Pueblo's top chefs join forces for one dinner that will showcase some of why this city earned the UNESCO-designated City of Gastronomy title.
The second in the series (the first was held in Oct. 2014), the newly named event will again benefit Tu Nidito and Fox Tucson Theatre. This time around, though, Janos Wilder and Jerry Alday (Downtown Kitchen + Cocktails), Chris Bianco (Pizzeria Bianco), Erika Bostick (Agustin Kitchen), Tyler Fenton (Reilly), Kris Vrolijk (Proper), Carlotta Flores (El Charro), Daniel Thomas (47 Scott), Marialine Bennen (Penca) and Michael Bryer (Maynards) will serve up the dishes and stories for the 150-person crowd. The event will begin at 5:30 p.m. with cocktails and paired appetizers, to be followed by a multi-course, local wine-paired dinner at 6:30 p.m.
Here's the night's planned menu:
HORS D'OEUVRES
Reilly Craft Pizza:
BARRIO TOAST, LOCAL GOAT CHEESE, HONEY AND PISTACHIO
Drink: Easy Breather
Agustin Kitchen:
BRAISED PORK, HARD CIDER, PEPPADEW MAYO, PICKLED CUCUMBER & BUTTERMILK BISCUIT
Drink: Shiso Fine
Penca Restaurante:
BRAISED TONGUE, GRAPEFRUIT PICKLED ONION PUREE, CRÈME FRAICHE, HABANERO CANDIED GRAPEFRUIT AND MICRO CILANTRO
Drink: Cuarenta Casas
47 Scott:
GOAT CHEESE TART with HONEY WHIPPED GOAT CHEESE, BEETS & CRISPY CALABRESE
Drink: The Produce Smuggler
TASTING MENU

First Course: Proper:
GREEN MANGO, PAPAYA SALAD with MEXICAN SHRIMP
coriander, birds eye chili, tomatoes, lime
Drink: Sand Reckoner 'w', Cochise, AZ
Second Course: Maynards Market & Kitchen
PAN-SEARED MEXICAN GROUPER, QUINOA, ROASTED CORN FRITTER
green tomato mojo, chiltepin aioli, micro cilantro
Drink: Wild Child, Pillsbury Wine Company, Willcox, AZ
Third Course: DOWNTOWN Kitchen + Cocktails
QUAIL, PORK CARNITAS + CHILAQUILES
chipotle scented roasted butternut squash sauce
Drink: Kief-Joshua Vineyards 2013 Tempranillo, Elgin, AZ
Fourth Course: Charro Steak
MESQUITE SMOKED GRASSFED AZ NEW YORK STRIP
green corn and sage tamale, ancho bone broth
Drink: Desert Winds Merlot, Columbia Valley, WA
Dessert: Pizzeria Bianco
TRES LECHES CAKE
Drink: Dos Cabezas Pink, Cochise County, AZ
Unfortunately, this event has sold out, but you can stay in the loop with future Downtown Chef's Table dinner events by following
the event's Facebook page
.