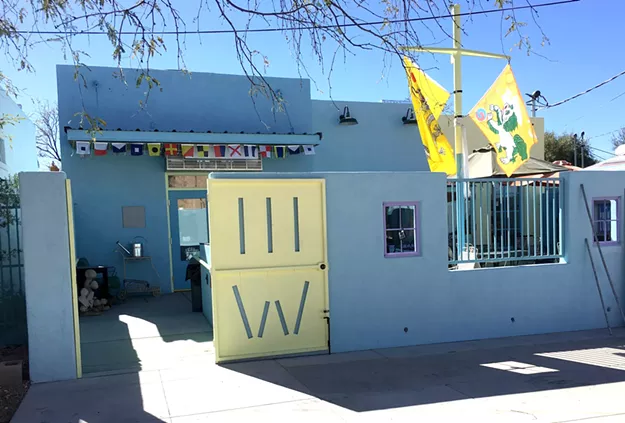 Curious neighbors in Dunbar/Spring need wonder no more. The sky blue building with the bright yellow flags at 111 W. Fourth St. is definitely tough to miss, and soon you could find yourself stopping in for local produce, grains and fresh vegan cooking at reasonable, wholesale pricing. That's because
Zinman's Food Shop
is in it's very soft opening stage right now, testing out its three different food experiences slowly.
First, the Gershonsvitz Grainworks will offer local milled grains like Pima Club Wheat, grown at the San Xavier Co-op Farms, for $4 per pound or $2.50 for a bulk rate. The wholesale granary will be open to the public.
Another side of Zinman's will offer fresh local produce as a wholesale grocer primarily intended for local chefs, but also open to the public. Zinman's will be growing some of the produce on-hand in their off-site garden and some herbs in the on-site thousand-square-foot herb garden behind the shop.
Finally, C. Hopkins Café will offer a modest selection of seasonal vegan dishes freshly stir fried in the restaurant's wok. Waffles, pancakes, pastries and more will be available for breakfast. The café is testing recipes currently and looking for more cooks and a baker, but will be open for breakfast, lunch and dinner once it's fully staffed.
Zinman's Food Shop, which is located west of Stone Avenue and south of University Boulevard, seeks to have all components of the business ready in about a month. You can stay up-to-date with the market and restaurant's progress and hours by following
Zinman's on Facebook
.