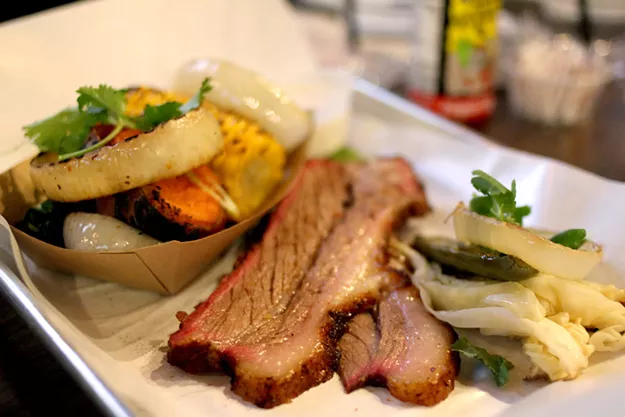 It seems like the barbecue scene in Tucson is starting to take off. With the opening of the high-concept bourbon, beer and BBQ joint, Brother John's, in the old Wildcat House space just before the New Year, the Old Pueblo got a taste of serveral different 'cue-ing regions in the U.S. Around that same time, Pasco Kitchen owner Ramiro Scavo threw his hat into the BBQ ring by opening up Red's Smokehouse and Taproom (943 E. University Blvd., #125) across from his other UA-area restaurant.
However, with his smoked brisket ($9.50 for 5 ounces) and chicken ($7 for half), pulled pork ($7 for 5 ounces), baby back ribs ($9 for half) and more, Scavo isn't looking to offer a taste of some place else. Instead, Red's is successfully serving up something oft-talked-about in the local culinary scene: a taste of Tucson barbecue.
With meat at the forefront and a Myron Mixon smoker prominently displayed in the exhibition-style kitchen, Red's uses wet rubs, spice blends, peppers, slow roasting, smoking, citrus brining and more to accomplish flavorful, moist and tender cuts that don't need the assistance of sauce. With a moderate dose of underlying heat, the barbecue is spicy enough to satisfy Sonoran palates, without dominating the flavors of either the meat or the cook on the meat.
If you just can't let go of the sauce, you should know that even meat purists will find something to like about Red's offerings. The barbecue sauce is tangy and vinegary with a hint of (what I'm guessing is) Old Bay—a smart choice to distinguish it from any other BBQ sauce you've had before. Plus, Old Bay is the best. The creamy horseradish sauce is subtle for the horseradish-averse, but with enough flavor to have you dunking wings (which come grilled and smoked for $2 each or a dozen for $12.50).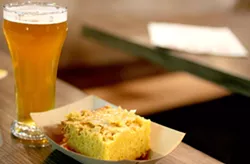 In addition, the restaurant offers sides that are far from standard fare and are served with a sense of place. Buttery agave and molasses corn bread ($4), corn on the cob with cotija and lime ($4.50), macaroni salad with chili and roasted corn ($4.50), creamy coleslaw with mesquite honey ($4) and more offer unique and delicious takes on what you'd expect to find paired with barbecue.
In terms of drinks, the bar comes with a beer focus, offering 20 brews on tap of both local and national origin. Five house cocktails are also available with whiskey as the main focus, but also offering drinks with vodka and mezcal.
Red's Smokehouse and Taproom is now open 11 a.m. until midnight, except on Friday and Saturday when the restaurant and bar stays open until 2 a.m.