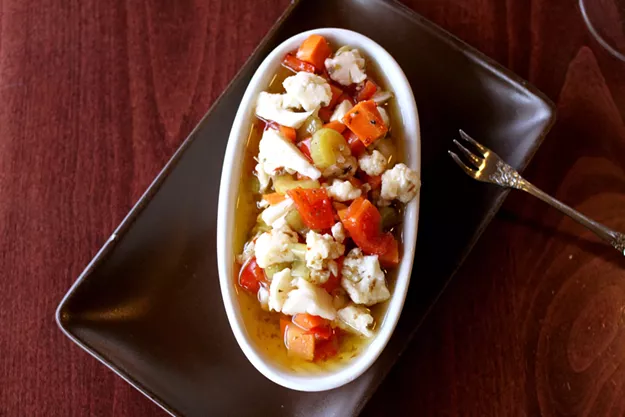 In
this week's Chow feature
, chef Erika Bostick of The Coronet talked about some of her favorite uses for the veggies in season now. From harmonious salads to clever starchy substitutes, Bostick crafts vegetable-centric dishes that highlight the labors of local farmers right. After taking over operations at Agustin Kitchen, she sought to add color to the restaurant's menu with, of course, more veggies.
One way Bostick preserves local flavor for future use is in her giardiniera. The traditional Italian condiment is a staple, and anyone who's been to Chicago knows that it can really liven up a sandwich. Bostick says her giardiniera is the best in town, recommending that it be put on grilled bratwurst, added to an antipasto tray (as it is at The Coronet) or even put in a grilled cheese for "a weird yet delicious addition."
Here's how it's done:
Giardiniera

(Yield: 1/2 gallon)
Vegetable mix:
2 red sweet peppers, cut into 1/2" pieces
5 celery ribs, sliced 1/2"
5 carrots, sliced 1/2"
1 large head cauliflower, cut into small florets
1/2 cup salt
Dressing:
1/2 cup evaporated cane sugar
2 cloves garlic, slivered
4 teaspoons dried oregano
2 teaspoon red pepper flakes
1/2 teaspoon celery seeds
1 teaspoon crushed black peppercorns
3 cup white vinegar
3 cup light olive oil
In a large bowl, mix the vegetables and salt until well combined. Transfer to bowl and cover with cool water. Cover with lid or dish towel and allow the mixture to sit, unrefrigerated, for 8 to 12 hours.
Next Day:
Drain the vegetables and rinse thoroughly. Pack the vegetables into glass jars with lids. In a bowl whisk remaining ingredients. Pour dressing onto vegetables. Screw lids onto jars and gently shake to coat all vegetables with dressing. Refrigerate and it's ready to serve in 48 hours.