Ladies and gentlemen, prepare to get a mean case of the meat sweats. That's because Tucson's newest dining and drinking addition, Brother John's Beer, Bourbon & BBQ (1801 N. Stone Ave.), is now open and serving up all things smoked meats.
Well, maybe this is a tad pre-emptive, as Brother John's doesn't officially open until 6 p.m. on Dec. 23. After that, you can visit the restaurant from 11 a.m. until 10:30 p.m. on Sunday, Monday through Wednesday from 11 a.m. until midnight (kitchen closes at 11 p.m.) and Thursday through Saturday from 11 a.m. until 2 a.m. (kitchen closes at midnight).
In
a previous interview with Brother John's owner and namesake John Aldecoa
and his team, Aldecoa spoke about the adaptive reuse of the historic Wildcat House space. After renovating the well-loved watering hole, Aldecoa enlisted chefs Nate Eckhaus and Patrick Vezino to craft a barbecue program that focused on cooking "slow and low," never sacrificing quality for speed. Eckhaus worked under famed New York restaurateur Danny Meyer, while Vezino worked with Mike Mills (partner in Meyer's Blue Smoke) to hone his barbecue skills.
The resulting menu offers slow cooked brisket, baby back ribs, St. Louis ribs, smoked chicken, pulled pork, pork belly and turkey breast, along with the occasional short rib special when the specialty cut can be sourced locally. Of course, no barbecue menu would be complete without sides, and Brother John's has most bases covered, offering potato salad, collard greens with bacon, tangy burnt end beans, mashed potatoes, jalapeño corn bread, mac and cheese and more.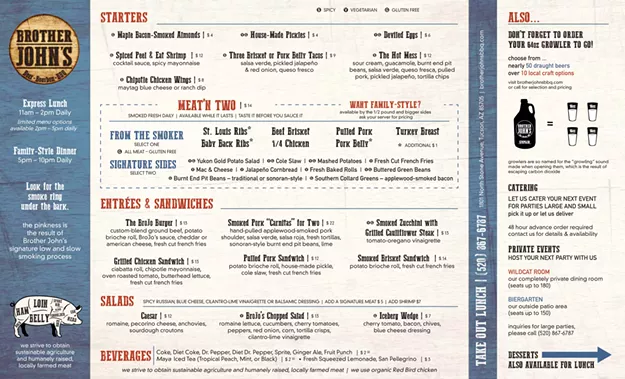 The restaurant will soon also have a 2,400 square-foot beer garden, though construction on this part of the restaurant is not yet finished. The bar offers 48 draft beers, over 100 bottled beers, cocktails and 150 different whiskeys, including a bottle of Pappy Van Winkle's Family Reserve 15 year—for you hype whiskey snobs. Brother John's also offers several local craft brewers including Dragoon Brewing Company, Barrio Brewing Co., Sentinel Peak Brewing, Nimbus Brewing Company, Ten Fifty‐Five Brewing, Borderlands Brewing Company and Iron John's Brewing Company.
For more information on Brother John's, visit
the restaurant's website
.