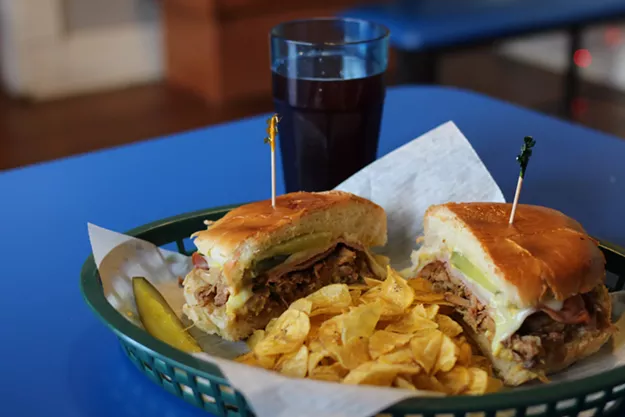 Tucson, you've got a new place to get lunch and late night eats off Fourth Avenue. That's because the Latin It Up Sandwich Shop (344 N. Fourth Ave.) is now open and cranking out tastes of Central and South America.
Sandwiched between Che's Lounge and late night chain poutine restaurant U.S. Fries, Latin It Up certainly to add some new flavor to that Fourth Avenue block. On the inside, the décor offers bold and bright colors, with ambient jazz piped over the sound system.
Before you enter, though, you'll notice that Latin It Up claims to be Tucson's home of the Cuban sandwich. Anyone familiar with the popular Floridian sandwich will definitely be excited to hear that this is true. El Cubano ($8.95) hits you with a pickley punch, creamy mayo, spicy mustard and pork two ways: as sliced ham and as pulled pork. Although I would've preferred my bread be toasted longer, the sandwich was easily the best iteration of this classic that I've had in town. All sandwiches at Latin It Up are served with your choice of plantain, yucca, BBQ, sweet potato or plain chips.
Other Latin It Up offerings include Chicharron, Roast Beef, Rio Chicken and Pollo Cilantro, along with three vegetarian options, salads, two soups, smoothies, empanadas and papas rellenas. The last of which is like a Peruvian potato croquette filled with ground beef and sliced olives.
To wash it all down, the Chicha Morada, or purple corn drink, is a sweet blend of juices and spices that's as unexpected as it is refreshing. The small restaurant also offers milkshakes, flan and arroz con leche (rice pudding) for dessert.
Latin It Up Sandwich Shop is open Sunday through Thursday from 11 a.m. until 9 p.m. and Friday and Saturday from 11 a.m. until midnight.