There's this unique thing that happens when you try a dish that's so well composed and executed that it instigates a weird little epiphany (comme "la petite mort," n'est-ce pas?) of what food can be. It's the kind of experience that, once you've had it, you're forever chasing the moment to come across it once again. It's like finding out you've been eating food codeine only to find out food heroin exists. Eating is never the same.
Now, this isn't a hallmark of fine dining per se, as I've found it in pho broth and al pastor tacos, but it is a pretty good sign that wherever you've found it is the kind of place that serves food that's intentional, respectful of its ingredients and infused with passion. It's with that preface that Wilko's new menu and it's new chef (of five weeks), Jesse Curtin, come into focus.
That dish on Wilko's new menu is the cassoulet. The classic French dish has humble origins—it's basically the country's version of the casserole that was cooked slow and low while its maker worked. However, at Wilko, Curtin combines duck breast, haricots blancs (white beans), duck confit, lardon, pancetta and more to make a rich, hearty offering. The first thing you'll notice when the dish comes to the table is it's truly intoxicating aroma—herby, fatty and unctuous (trust me, no one likes that word but it applies here). Once you start to dig in, you'll uncover perfectly tender on the inside, delicately crispy on the outside duck breast atop a bed of the dish's other decadent other components. Curtin says the dish is inspired by his father, who was also a chef.
However, that isn't the only impressive showing on the menu. Tender tartare topped with shaved egg yolk (my new favorite condiment) and paired with arugula puree (my new second favorite condiment) and a kale salad with a perfectly tart lemon vinaigrette and a 64 degree poached egg are both good places to start. The salad in particular showcases the adept sense of balance and seasoning that the menu offers—suggesting that any dish, even if it is just a salad, gets equal attention.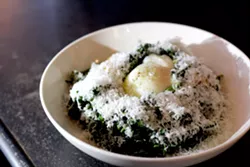 If you're in the mood for something more Italian, the menu offers pappardelle all'arrabbiata, tagliatelle bolognese and gnocchi. As far as the gnocchi goes, you can expect expertly seared (in brown butter because of course) gnocchi atop a squash puree and beet oil with lightly cooked baby root vegetables placed artfully around the plate. It's bright, yet earthy, and insanely comforting. However, the most impressive accent to the dish comes by the way of the almond dust on the gnocchi. With pillowy gnocchi and squash puree, the dish could get a little, well, smushy, but that small touch adds an important textural layer that elevates the dish.
While this menu showcases a bit of where Curtin's cooking influences have come from in the past, referencing his work across the country from the now-defunct Charleston in New York to Oakland's Picán more recently, the new chef says he looks forward to showcasing more of the Sonoran desert's bounty on future menus.
Of course, there were some very small tweaks that could be made to dishes, but overall Curtin's offerings are a breath of fresh air in the dining scene. For a chef who ended up in town after three tire blowouts stranded him between Oakland and Austin, it seems something is trying to keep this ambitious new chef here. So, cancel your reservations for this weekend and go to Wilko to find out what it is.