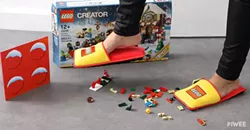 Some whimsical news out of France: LEGO has heard your midnight cries and is working to protect your venerable feet.
Well, not
your
cries unless you've been crying in Europe.
According to
Huffington Post
(and their hopefully reliable translators!), 1,500 LEGO customers who fill out the company's
Christmas wish list
will win a pair of foot-savin' slippers. The slippers are made with extra padding on the bottom to make walking through a recently LEGOed room less horrifying.
Want a pair? Move to France, fill out your wish list and hope you're one of the lucky 1,500.
Or just, you know, wear regular shoes when entering the danger zone.