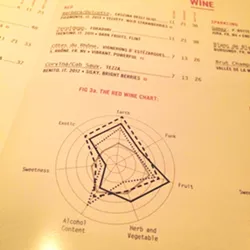 Look, I enjoy wine, but I will say learning about beer, spirits and cocktails came first for me. With every glass, I learn more and more, but I still have a long way to go. Honestly, wine is intimidating and always has been for me. It felt like wine geeks were a stuffier sort that look down on canned beer drinkin' folk like myself, but the tide is turning.
One of my new favorite efforts in town to make wine more accessible is at R Bar. Beverage director Rory O'Rear just put out a new menu, which offers a full listing of liquor, beer and even some new cocktails. However, it's on the wine menu that I really got excited.
Separated by red, white, rose/amber and sparkling, the modest selection serves up about four varieties in each category. Next to the names, origins and prices, you'll find brief tasting notes. Underneath each category is a chart that further describes the varieties, using dotted, dashed and solid lines to correspond with the wines. The chart visually explains what to expect from each wine, be it earthy, exotic, sweet, funky, fruity, boozy, herby or vegetal.
From there, making a decision based on your own personal flavor preferences is a lot easier.
On the list right now, I'd recommend both the Cascina Degli Ulivi Barbera/Dolcetto 2013 and Foradori Teroldego 2011 (each are $11 per glass), but you know what? You don't have to take my word for it. Just check out the chart and see what piques your interest. R Bar (350 E. Congress St., #110) is open Saturday through Thursday from 7 p.m. until 2 a.m. and Friday 5 p.m. to 2 a.m.