If you've ever looked down wistfully at a root beer float and thought, "Gee golly, I sure do wish this was coffee instead of pop," you're in luck because Presta Coffee Roasters is offering up a float-like combination of ice cream and espresso called an affogato.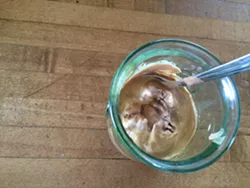 The coffee special offers up your choice of single origin espresso, which right now is the Sidamo Guji from Ethiopia, or the special Presta espresso blend, which mixes 75 percent Columbia Valle de Cauca Supremo with 25 percent Ethiopia Guji Adolaa Andararaa. The blend offers a consistent full-bodied espresso with heavier and more caramely notes. The single origin will have more delicate, clean and straightforward flavors, with this particular bean being fruity and bright. However, the single origin bean does rotate to offer tastes of different coffee-growing regions.
As far as the ice cream goes, a scoop of Straus Family Creamery chocolate or vanilla (depending on which they have on hand) adds an addictingly creamy and sweet flavor to the drink, offering an unique alternative for folks who enjoy iced mochas or vanilla lattes but are looking for a little more complexity in their espresso flavors. Since Presta switched to local milk purveyor Danzeisen Dairy for their lattes and cappuccinos overall, you can still enjoy Straus milk in ice cream form with this dessert-drink hybrid.
Presta Coffee Roasters (2502 N. First Ave. #100) is offering up affogatos for $3.75 Tuesday through Sunday from 8 a.m. until 2 p.m.