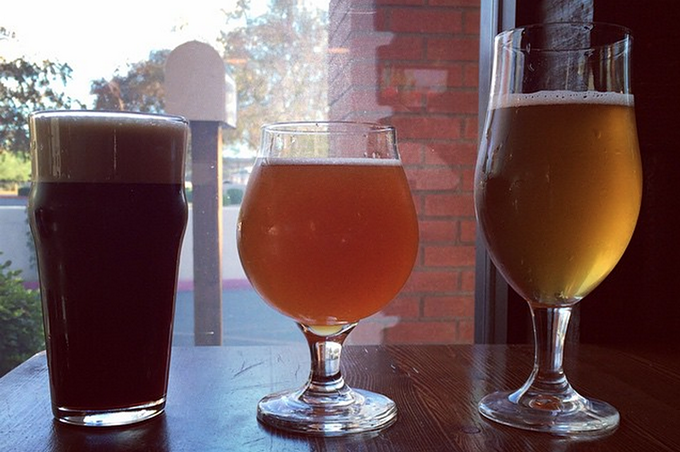 Last year there was a lot of buzz surrounding the new Phoenix-area Arizona Wilderness Brewing Co. A
piece in Esquire
and a
best new brewery recognition
from the online community of beer geeks over at RateBeer.com proved the Kickstarter-funded brewery was churning out some of the tastiest and most inventive brews in the world.
With a focus on using local grain and more, the brewery continues to put out unique brews with new, limited quantity offerings coming out of the fermenter all of the time. The quantities are so limited, in fact, that you can't really get their beer outside of their restaurant and taproom location in Gilbert for much longer than a week or two, unless, of course, it's a special tasting event. That's why when the brewing team hits up Tap & Bottle (403 N. Sixth Ave. Ste. 135) on Thursday, June 25, you'll want to make sure you get there in time to sample each beer they're bringing to town.
Here's what you can expect:
Refuge IPA (6.8%) - West Coast IPA brewed with Centennial, Simcoe, Cascade, and Columbus hops.

Petting Feral Cats (3.7%) - This collaboration with Sun King Brewing Company has a light sweet note from Indiana hickory syrup and pleasant pine aromatics with Sun King's propietary saison yeast.

Santa Teresa (5.2%) - Our Belgian Single or Enkel brewed in a true Monastic Styl. with Westmalle yeast.
As well as a yet-to-be-released
Chocolate Bunny Imperial Milk Porter
, which is a collaboration with Stillwater Artisanal Ales of Baltimore.
Now, there's two reasons you'll want to head to the event early, which kicks off at 5 p.m. First, once those four kegs are tapped, they're gone, and it'd be a shame to miss them. However, T&B owner Rebecca Safford says an extra incentive for the first 15 people to arrive and pet the beard of either Jonathan Buford, Patrick Ware or Brett Dettler (a.k.a. the trio behind Arizona Wilderness) will get a free "Petting Feral Cats" Wilderness shirt.
If you're not in the petting mood, though, just head to the bar and get yourself a tasty brew. No pressure.