Reilly Craft Pizza's chef and owner Tyler Fenton might be young, but he knows what he likes and he knows how to make it. At just 25 years old, he's certainly been an impressive part of Tucson's dining scene for the last nearly three years that Reilly has been open, showcasing young talent in his restaurant both in the kitchen and
behind the bar
.
Although he didn't go to culinary school, Fenton says he's been making pasta for the last ten years, initially learning from his uncle. Fenton explains that when he first opened his downtown Italian joint he had four different handmade pastas on the menu, but eventually scaled it back. Now he's bulking up the restaurant's pasta program again with four different dishes.
Of course, there's the menu staple: cavatelli with housemade fennel sausage, which is a dish that he says the kitchen crew enjoys so much that he hasn't taken it off the menu. However, you'll find some welcome additions to the menu in the way of handmade farfalle, pappardelle and chitarra.
You probably know farfalle as bowties, but Fenton says it more accurately can be described as butterflies. Fenton pinches small squares of pasta dough in the center to achieve the shape. After a quick dip in boiling water, the farfalle is tossed and paired with garlic, sun dried tomatoes, wilted arugula and ricotta.
However, the star of Fenton's new menu is the chitarra, which he prepares his favorite way: cacio e pepe. The classic Roman pasta dish is simple and comforting, highlighting Pecorino Romano and fresh cracked black pepper in Fenton's iteration.
"It's so simple, but it's so deep in flavor," Fenton says. "The first time I had it, it changed my approach to food entirely."
Fenton says the simplicity of the dish leaves no room for error so he was initially hesitant to include it on a menu.
"I wanted to make sure my staff was on point and could execute the dish properly before I put it on the menu," he says. "I know we can do it right now."
One of the most important ingredients in almost all of Fenton's pasta dishes is the "pasta water" or the thickened hot water in which the pasta itself cooked. Adding a little of that water in as he cooks and tosses the pasta in a pan along with its accouterments adds body to the sauce and allows the pasta to be more evenly coated.
For Fenton, it's not just about making the thick "toothsome" (read: al dente) chitarra noodles fresh and from scratch. It's not just about executing the dish perfectly creating a full palette of flavor with relatively few ingredients. Fenton also loves the history of the dish. That's why he's using Pecorino Romano, which he feels is likely more historically accurate being that it is a Roman dish, in his dish rather than the commonly used Parmigiano-Reggiano.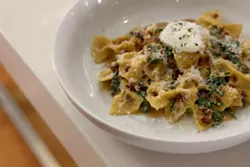 "I like the qualities you get from Pecorino more for this dish," Fenton says. "Parmesan tends to make it too alfredo-y and this has a nice barnyard quality to it."
The resulting dish is a lightly spicy, creamy, tangy and cheesy masterpiece that will likely be one of your favorite dishes too once you get a taste. The new pasta menu, including the must-try cacio e pepe, will be ready for you to try on Wednesday, May 27. Reilly Craft Pizza is located at 101 E. Pennington St.
Watch Tyler Fenton make his favorite dish, cacio e pepe, at Reilly:
And a very special thank you to Mark Matos of Trans Van Santos for allowing us to use his song "Rocket Man" off of
his new album "Moon Mirage."
You can and should buy the album on vinyl now at
Wooden Tooth Records
located at 415 North Fourth Avenue.
Editor's Note: This post has been updated from its original format.