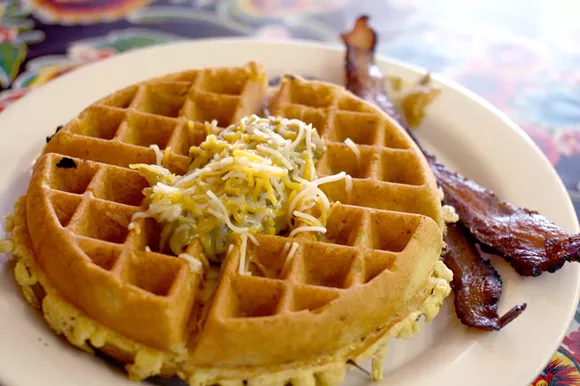 In a somewhat shocking turn of events, one of those national listicles actually got something right when it named Mother Hubbard's one of the top diners in the country. Men's Health, of all publications, went on a modest tour of diners across the country and our little haven for waffles and Native American eats made the cut.
The article says
:
When Kelzi Bartholomaei bought Mother Hubbard's Cafe in 2010, she vowed to maintain its diner spirit but reconstructed the menu to showcase what she calls contemporary Native American comfort food. At this Tucson institution, you'll find outstanding diner coffee, blue-corn-and-pine-nut waffles, and a calabacitas scramble made by whirling eggs with roasted squash, peppers, corn, cheese, and hot sauce.

Oddly enough, they didn't even recognize her for her delicious homemade sausages or house-smoked mesquite bacon, but that's just a testament to the greatness that is Mother Hubbard's: there's just too many good things going on there to name them all in one paragraph. After all, the spot has about ten different kinds of waffles, many of them naturally gluten free, and they don't carry the upscale mark-up.
Mother Hubbard's green corn waffles were also one of our
100 Essential Dishes
in 2015.
You can stop by and see what all the fuss is about at Mother Hubbard's, located at 14 W. Grant Rd. The restaurant is open Monday through Saturday from 6 a.m. until 2 p.m. and Sunday from 7 p.m. until 2 p.m.