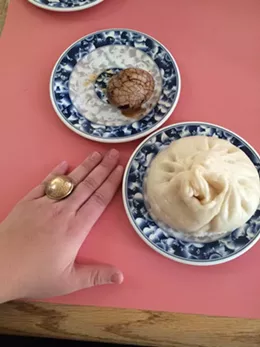 Conveniently located right near campus for those broke as a joke college kids in town, China Pasta House is a haven of quick, cheap and tasty eats. Even if you're not in school, the modest restaurant, located at 430 N. Park Ave. just south of 6th Street, is a good spot to check out for authentic eats for anyone who's thrifty.
Case in point: the pork bao. I'm well aware no one really wants to see my hand next to tasty food, but for the sake of scale, I included it. The lightly sweet, pillowy buns filled with seasoned pork are massive, but, best of all, they're only $1.50 each with or without bok choy. You can also opt for the veggie-friendly sweetened bean paste filled or mushroom bao for the same price.
Another inexpensive must-try item at China Pasta House is the tea egg. Tasting the black tea boiled egg is well worth the 50 cent price tag and the special blend of seasoning that goes along with it really makes the egg unique.
Then, of course, there are the dumplings. If you bring a friend and you each get a few of the smaller appetizer dishes, you definitely only need to split a half order of dumplings for a full meal. Half orders come with 15 perfect little steamed pouches filled with pork and cabbage, leek and egg, shrimp, veggies or more for right around $6.
For those dining solo, the pork and pickled vegetable noodle soup or sum sun noodle soup are both solid options if you have no one to share with. Both massive noodle-filled bowls run at about $7.
Since many of the menu items are such a steal at this little Chinese joint, it really gives you the opportunity to sample many different things, maybe trying something you wouldn't typically order. The service is very fast and friendly, and, since you aren't shelling out for pricey dishes, that means you can leave a nice tip even if you are generally a cheapskate, right?
China Pasta House is open Monday through Friday from 8 a.m. until 9 p.m. and weekends from 11 a.m. until 9 p.m . You can also order items for pick-up by calling 623-3334.