Jake Sullivan and Kellen Fortier have been loyal employees at Fourth Avenue's Cafe Passe for over three years each. On New Year's Eve, the two decided (possibly under the influence) to open a record store and now their idea is coming to fruition.
On Saturday, April 18 at 10 a.m., Wooden Tooth Records will open its doors to vinylphiles in Tucson to sift through their wares, and, according to them, there's going to be a lot to look through. For their initial inventory, the duo bought up large collections from two different longtime collectors that were looking to offload some vinyl before moving, which amounts to about 7,000 records in total.
About 3,000 of that stash will be priced at $1.99, while the remaining ranges more in the $4 to $16 neighborhood.
"It's going to be great for someone who's into digging through records for a great deal," Sullivan says. "It'll be a whole new selection of records to go through."
However, it isn't all about the second hand vinyl. In the future, Wooden Tooth Records will stock new releases from contemporary acts priced at about $16 to $18 per vinyl. They also plan to have a locals only section where musicians in town can bring in their vinyl, cassettes and CDs to sell on consignment. However, those will be the only cassettes and CDs in the store.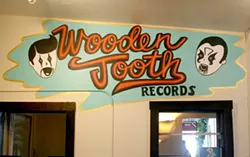 Fair, consistent pricing is just one factor that sets Wooden Tooth apart from other record stores in town, though, according to its proprietors. They're also going to make sure their bins are roomy enough to be shopable and the staff on duty is ready to offer a recommendation without the dreaded record store vinyl junkie attitude.
"We're taking all the things we dislike about other record stores and we're going to try to not do those," Fortier says. "Mostly, we don't want to be pretentious."
In that, they say it allows them the freedom to curate their selection to a more niche audience that would typically have to go online to find the records they were looking for.
"We know we don't have to cater to everyone," Sullivan says.
In the future, Wooden Tooth will host listening parties and concerts, bringing live music back to Cafe Passe, which recently
stopped hosting musicians to focus on the kitchen
.
Wooden Tooth Records will open on April 18—fittingly on Record Store Day—with a concert. The Myrrors, Jess Matsen, Katterwaul, Trans Van Santos and a "special guest" (spoiler alert: it's Burning Palms) will perform beginning at 2 p.m. and running until about 8 p.m. The store will open to the public at 10 a.m., with normal operating hours running daily from 10 a.m. until 8 p.m. after that.
Although Wooden Tooth couldn't get many of the Record Store Day releases since they aren't open yet, you can look forward to a special Giant Sand 30 year anniversary reissue at the store opening day.