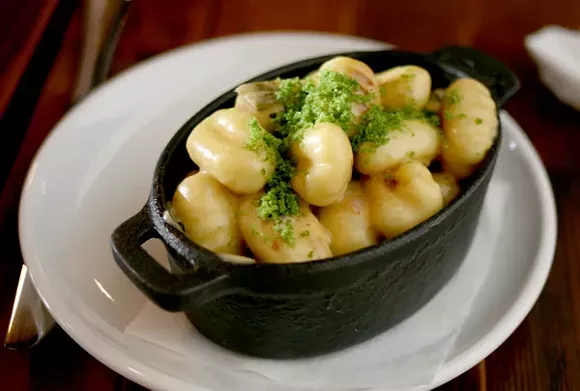 Owner Mark Erman of Ermanos made it pretty clear in his interview with us
in a previous article
that his new bar was in fact a bar first and not a restaurant. However, with a menu touting locally sourced ingredients, seasonal selections and unique flavor combinations, it seemed like this bar was promising some of the best bar food in town.
Starting off with the Zip burger, which is just $7 during happy hour and late night (Tuesday-Sunday: 2 - 5 p.m. and 10 p.m. to close), I was immediately impressed. For a "not restaurant," Ermanos certainly has other restaurants in town beat on the burger front. The moist, tender Double Check Ranch beef patty was thick and flavorful, accented perfectly with the house "Zip sauce"—a savory blend of soy and worcestershire sauces, butter and herbs that's been reduced and intensified. It's the kind of burger you'll be thinking about for a few days after you eat it. I could go for another right now, in fact.
Anyways, after that first successful taste, my table decided to kind of just go for it, ordering dish after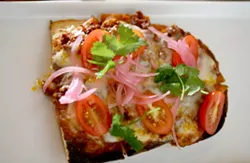 dish because that burger blew us all away.
The gnocchi and cheese with poblano chiles and herbs ($10) came in a small, hot cast iron dish. The flavor was similar to a standard mac and cheese, but the pillowy gnocchi gave the finished product more interesting texture.
The meatballs ($10) used the same Double Check Ranch beef that made the burger stand out and it's that attention to sourcing that really makes Ermanos' food much more than bar food. Using quality ingredients and augmenting them with stimulating spicing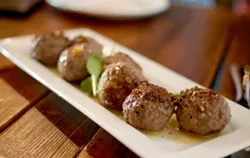 combinations, which in the meatballs' case was orange, fennel pollen and whole grain corriander, allows those ingredients to take center stage, while still Even the fries ($4), which were perfectly crispy, were served alongside a five spice spiked ketchup. Typically I forego ketchup, especially when they fries are good on their own, but the creative addition of five spice to the condiment made it tasty and exciting—much more than a ramekin of Heinz.
In terms of beer, Mark's brother Eric Erman has done a great job of curating a list that features many different varieties and breweries. The staff was ready and willing to help with suggestions, should you have difficulty deciding as well. Some of the best brews I tried from that first visit were the Destihl Raspberry Berliner Weisse (a sour white beer tinted blush from the berries), Great Divide's Colette (a lightly vegetal farmhouse ale) and Dragoon's Pony Express (a complex and smoky American Pale Ale). But, with 34 taps total at Ermanos there's a lot more to try off the list—and that's not even getting into the wine selection.
Really, the only way Ermanos isn't a restaurant is the fact that all service comes from behind the bar. Unfortunately that was also one of the only faults I found in the restaurant on that first visit. With a group of about six, someone else's tab was mixed into mine and removing those items off of my card took a bit of time. It's not exactly a major hinderance, but I did notice after I had left that I ended up being double charged for something anyways. Hopefully with time those glitches in the system will be worked out, allowing the bar and kitchen to shine as brightly as they do already.
Ermanos is open now at 220 N. Fourth Ave. Tuesday through Thursday from 11 a.m. until 12 a.m. and Friday through Sunday from 11 a.m. until 1 a.m.