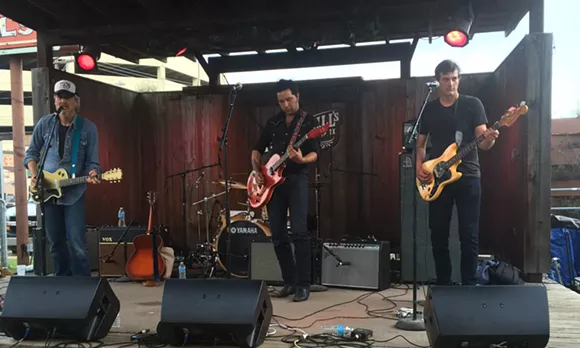 Still reeling from the devastating loss of missing Miley Cyrus' surprise performance at Fader Fort on Wednesday night (read: heavy sarcasm), I headed out Thursday determined to see as much as possible.
After some free BBQ (it's everywhere), I caught some of Juce's set at The Main II, which was an unexpected treat because the soulful UK pop group was a great way to start the day off with some dancing. You can't help but get excited for those times where you're walking down the street and discover a gem like that randomly.
A couple of beers later found me at Threadgill's for the New West Record showcase where Howe Gelb and Giant Sand performed. The crowd responded well to some of Gelb and Gabriel Sullivan's more playful guitar work, which he said was the sound of guitars texting.
Charles Bradley absolutely killed it at the Auditorium Shores stage with his James Brown style of R&B and funk. We can all only hope to be as limber as he is at 66, though I can't do the splits even now so I'll just leave the moves to him.
I posted up for the night at Hotel Vegas for the Levitation (see: Austin Psych Fest) showcase, which had a stellar line-up of current and past players in the psych and post punk scenes. Moon Duo played a droney, moody, super cool set and, if you know what's good for you, you'll see them Saturday at The Flycatcher.
The hip audience was then moved to a very rare enthusiasm thanks to Songhuy Blues. The little known band from Mali is to be the subject of a documentary about their escape from Timbuktu, but their grungey bluesy style combined with a high energy stage presence is what really won the crowd for them.
Post punk legends The Pop Group nearly destroyed my ears during "Citizen Zombie" and their sheer volume proved too much for the makeshift outdoor stage. Midway through their set the power went out resulting in shocked gasps all around. Before they lost sound, though, The Pop Group was pretty much everything you'd hope they'd be live—weird, loud and angry with some fantastic bass work.
Weird can't begin to describe Gang of Four's set, which, after the disappointment of losing part of The Pop Group's set, was a little more than I was willing to take. Apparently guitarist Andy Gill decided it would be okay to call his cover band Gang of Four, despite being surrounded by a bunch of 26 year old dudes with no other original members. Imagine if Paul McCartney toured as The Beatles with just him and some art school kids he found in England. Or if Queen toured without Freddie Mercury and replaced him with a young pop star—oh, wait.
Gill kept his lips pursed through the whole performance, moving around the stage and bumping into his young vocalist. As the vocalist became more visibly frustrated by that, they began playing "Anthrax." Unfortunately, Gill seemingly forgot the words and began to talk over the singer's performance. I couldn't hear it completely, but he definitely said something to the effect of "don't look over here" or "eyes off of me" and then proceeded to attempt to smash his guitar.
Having enough awkward disappointment, I headed to the inside stage where weird on purpose ambient performance artist Pharmakon wowed the crowd with her off-kilter antics. My friend aptly described her to me as "a wall of sound" that reminded me of someone screaming bloody murder over Hans Zimmer scores. At least when you're expecting strange, getting it is a much more welcome experience.
Finishing up the day, I danced a whole bunch to Black Joe Lewis. Now it's raining and I'm ready to go back out. Come back soon for
TW
Goes SXSW: Day 4.