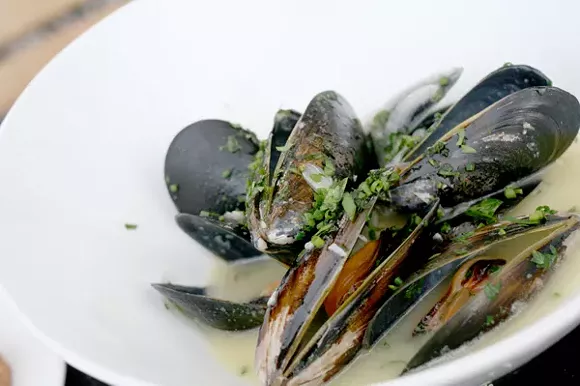 If you're looking for an upscale dining experience on the cheap, Maynard's happy hour menu is the way to go. Served Monday through Saturday from 4 until 6 p.m., the downtown spot offers up deals on pizza, poutine, mussels and more from the kitchen and cocktails, beer and wine from the bar.
You can order from the discounted menu at the bar or on the patio and, if you don't mind the occasional train horn blast, the patio is really lovely right now.
In terms of drinks, $3 craft drafts, $5 glasses of wine and $7 specialty cocktails are up for grabs. The beer and wine list have a range of styles to suit your taste and the pricing really is kind of ridiculous. For cocktail lovers, the menu offers a few whiskey drinks, a take on a Moscow Mule, a tequila cocktail and the house sangria.
While the Winter Rye, made with Templeton rye, Calvados and a pear and clove gomme syrup, was a little syrupy, the Tequila's Dirty Sister was well worth the $7 price. With a Reposado base enhanced with a bit of smoky, vegetal bacanora, the drink relies on a tasty raspberry habanero shrub to add a pronounced, but not overwhelming tart and spicy finish to the drink.
To eat, the bar menu has twelve different options all priced at $7 or less. Three pizzas serve up garlicy potato, sausage or pepperoni topped pies. On the lighter side, a two cheese plate with freshly baked bread or the bistro salad with kale, bacon and a soft boiled egg offer up noshable options for grazing.
However, if you're really serious about getting down on your happy hour, Maynard's poutine is essentially a plate of delicious hedonism. House-cut fries are topped with a thick roasted duck gravy, tender duck confit, locally made cheese curds and cracklins for an intensely decadent experience. You can also add an ounce of foie for $6 cause, you know, why not?
Somewhere between those two dining styles are the mussels. Steamed and served in a broth of white wine, garlic, shallots, herbes fines and butter, the sauce is delicate and lets the mussels shine while adding that hint of refined French flavor that makes you feel like you're somewhere else—somewhere like the Saint-Germain-des-Prés.
The menu also includes a Niman Ranch burger, steak tartare, oysters and a shrimp cocktail. With all of that variety on both the food and beverage menus, there's really no further selling point to Maynard's happy hour than the simple fact that you can get a dish and a cocktail for under $15 (not including tip).