Phoenix might have their
llama drama
, but down here in Tucson we have Mamma Llama back again. About two years ago, Mamma Llama Empanadas closed the door to their brick-and-mortar operation off of Craycroft and Grant roads. Vicki Sims and Kris Masalsky, the duo behind Mamma Llama, recently decided to license their empanadas to Todd Martin at Tucson Tamale.
Although the phrase "license their empanadas" might seem like the crispy, flaky, golden brown love and attention is baked out of Mamma Llama, Masalsky says that her and Sims have actually been behind the scenes and in the kitchen, training the Tucson Tamale crew how to make their empanadas.
"We trained the staff to carry on our tradition," she says. "We'll still be involved."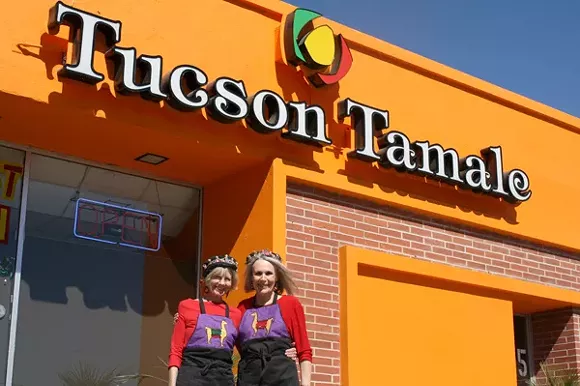 After 13 years of making Mamma Llama Empanadas, you might think it'd be tough to let go of the reins a little, but Masalsky and Sims both agree that partnering with Tucson Tamale made sense since they've always had a similar customer base and have always wanted to work with Martin. Mostly, the pair is just happy that their empanadas are back for Tucsonans to enjoy.
"If it's a good goal and a good dream, somehow it finds a way to come back," Masalsky says. "It wasn't just about the food for us. We wanted to make a good product, but it was really about building and maintaining relationships."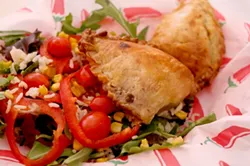 Tucson Tamale is offering packs of two frozen empanadas to take and bake or a hot empanada of the day plate ($6.79) which comes with two sides. The following four flavors are currently available:
Viva Argentina: beef, tomato, raisins, green chile, cinnamon and other spices ($4.49)
Peruvian Twist: artichokes, green chile, mayo, cheese ($4.99)
Peachy Keen: peaches, cranberries, walnuts, cinnamon ($3.99)
Buenos Dias: egg, Tucson Tamale's Sherry salsa, green chile, mozzarella ($3.99)
Masalsky says that though the crew launched those four empanada flavors initially, chances are that they will have more variety in the future. You can buy Mamma Llama Empanadas now at
Tucson Tamale locations
.
The ladies of Mamma Llama will also be handing out empanada samples at each of the three Tucson Tamale locations from 1:00pm - 3:00pm on March 1 at 7159 E. Tanque Verde Road, March 8 at 7286 N. Oracle Road, and March 22 at 2545 E. Broadway Blvd. Attendees at those events can also enjoy buy-one-get-one packages of empanadas.