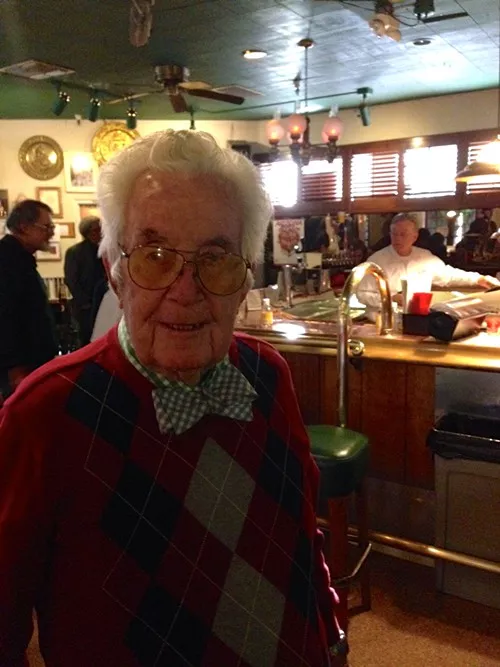 Dick Tuck celebrates his 91st birthday


A talented and remarkably good-looking crew turned up at The Shanty on Sunday, Jan. 25, to celebrate Tuckmas, aka the 91st birthday of Dick Tuck, the legendary political prankster who used to drive President Richard Nixon nuts.

Among those in attendance: Tucson Museum of Contemporary Art Executive Director Anne-Marie Russell and her hubby, Mike Hein, the director of Pima County's Office of Emergency Management; Tucson Sentinel editor and publisher Dylan Smith and his wife, Sentinel editor Maria Coxon-Smith; author Greg McNamee; Tucson City Councilman Paul Cunningham and his newlywed wife, Alisa; KUAT-FM classical music guru James Reel and his wife, Yvonne Merrill; Arizona Daily Star reporter Tony Davis; and many others.

Tucson Mayor Jonathan Rothschild was also in attendance to read a proclamation honoring Tuck for his many contributions to politics, including his skirmishes with Tricky Dick and his stint as National Lampoon's political editor, where he inspired modern satirists such as Jon Stewart and Stephen Colbert. Among the cavalcade of evidence supporting the declaration of "Dick Tuck Day": "Whereas, upon losing the primary for a seat in the California state Senate, Mr. Tuck uttered the words: 'The voters have spoken … the bastards."

Before blowing out his candles, Tuck thanked his guests for coming out for the party and noted that he was wearing long pants for the occasion, which was unusual for him, as he can normally been seen making his circuit about town clad in shorts, colorful socks, a dress shirt and bowtie.

He recalled that when he was a young boy, his mother took him to Steinfeld's downtown department store to buy a pair of shorts, only to be informed by the clerk that Arizona residents didn't wear shorts.

"My mother then carved her a new ass," Tuck said. "I wish I could remember exactly what she said, but I was only 6 or 7. At any rate, I notice that Arizona golfers and most other people wear shorts, thanks to my mother."

He also expressed his gratitude to Shanty owner Bill Nugent, who was tending bar Sunday afternoon.

"I've been to lots of parts of the world and sampled their bars and this is one of the nicest places I've ever been," Tuck said, "He runs a good joint and I hope you all come back here often."