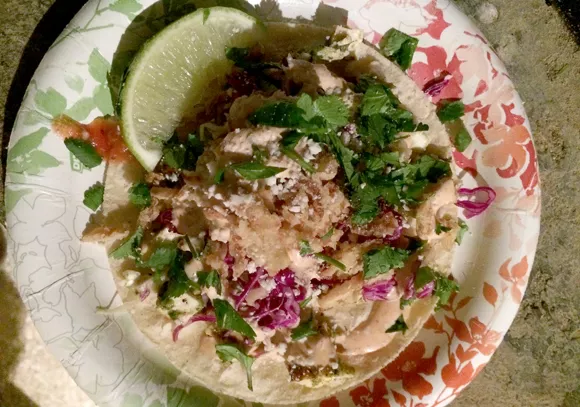 Thursday night at La Cocina means Funporium will bring under-the-radar local acts to the stage for your listening pleasure. Last night's show featured Otherly Love, who, despite not playing in a while, really killed it with a high-energy set, as well as az77 and RJM, featuring members of Prom Body.
However, a great free show is only one reason to head to Funporium nights at La Cocina. If you're not a music junkie, consider the taco special. The weekly changing offering dreamt up by Kyle Araishi who mans the grill is something inventive and totally delicious.
Taking some liberties with fusion, you'll find that chimichurri tacos, kimchi tacos, and more are well worth the $3 price tag. Plus, they pair rather well with the varied list of local, seasonal brews on tap at La Cocina. You can try the taco specials for yourself by heading to La Cocina Thursday nights from 10 p.m. until 2 a.m.