When you first walk into the brand new Street Taco and Beer Co. off of Congress Street north of Church, you can't ignore the similarity between the new locally-owned joint and the national chain Chipotle. After all, the light reclaimed wood and metal look is ever-present in both restaurants. While the big guys pretty much invented the term fast casual, initial tastes of the new downtown taco joint hint that the local guys can actually do it better.
If you've ordered at a Chipotle, you'll feel at home at Street Taco, which opened to the public today. A long line formed around lunchtime, nearly going out the door. However, the team behind the counter efficiently busted through orders meaning diners didn't wait longer than about five minutes in line.
The menu offers single street tacos with flour or corn tortillas for $2 to $3 and burritos for about $7 with al pastor, carne asada, pollo asado, carnitas, and veggie options. The restaurant also serves nachos, quesadillas, hot dogs, and $1 to $2 sides like beans, rice, elote, and calabacitas.
While the menu and restaurant are set up unmistakably similar to Chipotle, seeing meat and corn roasting on a spit in the back was the first sign that owners Dago Martinez and Amjaad Jhan were doing it better than their predecessor.
The next way Street Taco impressed was by offering free chips and a salsa bar—something that's additional if you opt for Chipotle instead. The salsa bar includes three red salsas, two green salsas, pico de gallo, pickled onion, fresh sliced radish, lime slices, and roasted jalapeños.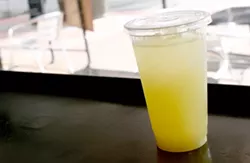 Once you take a bite, you'll notice well-marinated, flavorful, and tender proteins, grilled tortillas, and handmade sides. While the al pastor used spices to accentuate the meat, the carne asada showed simplicity and technique that let the meat sing on its own. Even the calabacitas were full of flavor in that salty, comforting way that they should be.
Despite being made on an assembly line, the food still has the soul and spice that Mexican cooking should have— especially after adding a few healthy dollops of the aptly labeled hot salsa.
To cool off, the restaurant offers aguas frescas like horchata, jamaica, and piña with chunks of fresh pineapple. Street Taco also has a bar with local beer, draft beer, wine, and an array of tequila.
Overall, if you're looking for heat and authenticity, Street Taco has a lot to offer at comparable pricing to the competitors. Plus, the option to get single tacos, rather than a full meal, gives diners the choice to have a light lunch or to mix and match and create a taco plate.
You can follow the new restaurant via
their Facebook page
for updates and more information.