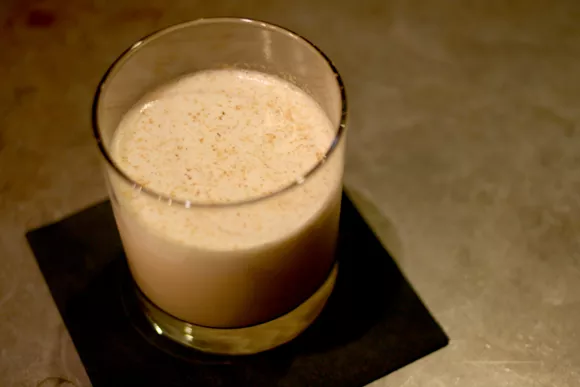 You might be at the point right now where you've had about as much Christmas stuff as you can possibly stand. Well, you'll want to make room for one more dose of holly jolly when you hear about Scott & Co.'s egg nog cocktail.
Blending traditional nog components like milk, cream, sugar, eggs, and a "liberal use of nutmeg" grated freshly into and on top of the cocktail, Ryan Sunderman says they like to pre-batch a large amount of the drink and whip it up in a blender to give it a light, airy, and frothy consistency. With El Dorado spiced rum for depth and richness and Amontillado sherry to add complexity and nuttiness, the finished product is rich, but still balanced and drinkable.
As part of the bar's rotating line-up of weekend specials, you can get a cup of nog this Friday and Saturday for $4. Sunderman explains the craft bar introduced punch-style specials to offer guests something they can have cheaply and quickly.
"It's almost like an appetizer," Sunderman says.
Upcoming specials planned for Scott & Co. punches include a wassail and a mulled wine, but you can get the last of the egg nog this weekend. If you're interested in attempting to make your own tomorrow, you can approximate Scott & Co.'s recipe by blending
these two Jeffrey Morgenthaler recipes
.