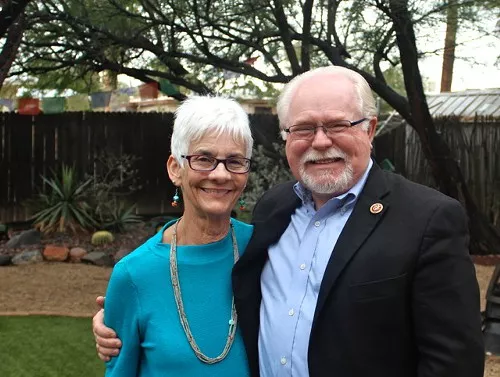 Ron Barber's priority: Catching up on family time with his wife, Nancy.
Sitting in his home a few hours after a Maricopa County judge declared the results of a recount that determined he wouldn't be returning to Congress next year, Ron Barber reflected on his two-plus years representing Southern Arizona.
"I want to make sure that the people of Southern Arizona know how grateful I am for the trust they put in me to serve them," Barber said. "It has been an absolute joy and incredible honor to serve this community."
Barber, whose loss to Republican Martha McSally by 167 votes was made official yesterday following a recount mandated by the state because the race was so close, ran through some of his accomplishments: Protecting the A-10 combat jet from cuts that the Air Force and Obama administration tried to push through. Finding funding for mental-health first aid programs that help people intervene before tragedy occurs. Turning a showdown between the EPA and a Cochise County power plant into a "win-win" for both sides. "We ended up with a better environmental outcome and were able to save 250-plus good jobs," Barber said.
He wishes he could have done more, but the current Washington gridlock stood in the way. Still, as part of a group of congressman who worked together on bipartisan issues, he said Congress often gets a bum rap.
"There's a lot of cynicism about Congress, but I think that if people actually saw what some of us were trying to do and did do, they would realize that it's not universal," Barber said. "Dysfunction in Congress boils down to a relatively small number of people who are essentially holding Speaker Boehner hostage because of their ideology. But there are a lot of good people."
Barber raised more than $3 million for the 2014 campaign, but he said the expense of his race—more than $13 million between him, McSally and the outside groups—was a "sad and disappointing development in our democracy. … It should never be that expensive to run for Congress."
In the case of some outside groups, "we don't even get to know who's spending it," he added. "The Citizens United decision by the Supreme Court is a huge backwards step for democracy."
Barber, 69, was always an unlikely congressman. He had dedicated himself to public service for his entire career, but was more of a behind-the-scenes guy. He worked in the state agency tasked with helping the developmentally disabled for more than three decades before stepping down to help Gabrielle Giffords run for Congress in 2006 and, later, became her district director, frequent companion and close friend.
Barber isn't flashy. He's not the kind of guy you'd expect to see raising millions of dollars from campaign contributors. He had even promised his wife, Nancy, that he wouldn't ever run for public office.
"Mmm-hmm," Nancy confirmed with a note of mock impatience while sitting in on an interview in the couple's modest midtown home. "Several times."
"And I was true to my word, until Jan. 8 came along, and it changed everything for a lot of us," Barber added.
In the wake of the mass shooting that killed six and wounded 13, including Giffords and Barber, he found himself running to finish out Giffords' term and serve another full one of his own. But in a year that saw a GOP wave wash over Democrats across the nation, Barber was one of many casualties, albeit by the narrowest of margins.
McSally was gracious to Barber in her prepared statement after the recount results were announced on Wednesday, Dec. 17.
"I sincerely thank Congressman Barber for his service over many years to Southern Arizona," McSally said. "I'll be seeking his input to continue strong constituent services and help ensure a smooth transition."
Barber said he had spoke to McSally earlier in the day and shared her concern that the office's service to constituents continued smoothly through the transition. "From our conversation," his said, "I believe she agrees that comes first."
His advice to McSally: "Listen to what the voters—those who didn't vote for you as well as those who did—want you to do, because that's the only reason we're there."
There are things he'll miss: Friends he made in D.C. His hardworking staff: "A guy couldn't ask for a better people." The ability to help people, whether it aid in navigating the new health-insurance exchange or tracking down medals for aging veterans.
"Being able to award a medal to some of these folks who served in World War II—I'll remember a lot of them, but one in particular I'll never forget: One of the few remaining living survivors of the Bataan Death March," Barber said. He was in his early 90s and we were able to pin a whole bunch of medals on this gentleman and he was able to regale us with a lot of stories from that era. It was very moving to see this guy who not only survived the war but survived one of the worst episodes of the war. To be able to say 'Thank you' to him was particularly poignant to me."
There are also things he won't miss, particularly the long flights back home every weekend. He said it was necessary to get back to Southern Arizona: "You have to keep in touch with the community."
Barber expects to stay engaged in the community, although his top priority right now is spending time with his family over the holiday. He'd spent the morning that his fate was officially decided at visiting at one his grandkids' schools.
"The first thing I'm going to do is spend a lot of time with Nancy, my grandkids, my daughters," Barber said. "We've got lots of holiday traditions that we'd like to enjoy together."