Take a very deep breath and try to remain calm, vinyl aficionados. It's been four years since you've been inside PDQ Records off of Grant Road and Dodge Boulevard and it's been nearly ten years since you've been in PDQ a la original owner Jack Grossi.
Well, PDQ is back under Grossi's care and that means you have approximately one bazillion records to sift through this weekend. Seriously, I went in there and felt like Indiana Jones finding the Grail or the Arc or whatever else (not a crystal skull). No one's seen these records for four years and they've been sitting there all sealed off in the closed down store just waiting to be bought.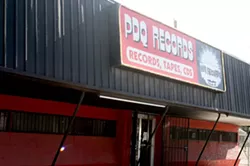 That's why manager Duane Miller is so excited to see PDQ, a store he worked at from 1994 until 2005 when it was sold to new owners, back in action.
"I really am just looking forward to getting this stuff back in circulation," Miller says. "We're here for the music enthusiast who wants vinyl."
Although the shop has tapes and CDs, the vinyl selection really is staggering. Miller says it's mostly full of great basics for any vinyl catalog with rock, soul, R&B, jazz, and country featured predominantly.
He says that in the future they may start buying newly released vinyl, but right now they're focused on building up their rarities selection—the kind of stuff that makes real record store junkies go crazy.
PDQ Records is now open for all your buying and selling vinyl needs Wednesday through Sunday from 12 p.m. until 6 p.m. at 2432 N. Dodge Boulevard.