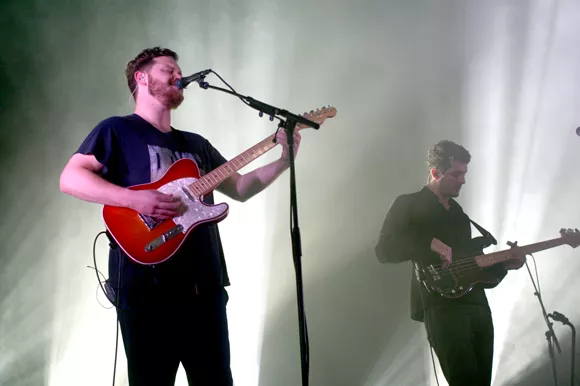 Alt-J fans likely fall into two camps: there are the ones that nearly destroyed their vocal cords when the band started playing "Breezeblocks" and there are the ones that jumped on the Alt-J train after "Left Hand Free" was released as a single.
There's no reason to disparage the latter group and it has nothing to do with the single peaking in the top 10 for the U.S. rock charts. The song is intentionally insulting and once you know the reason behind it, it's hard to even listen to the song.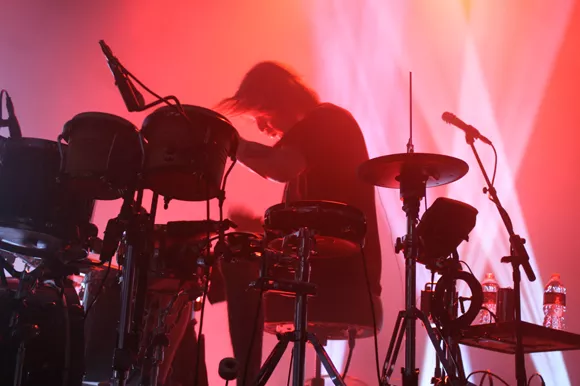 In
an interview with The Guardian
earlier this year, the band explains that the song was written in about 20 minutes after their label told them the song that they wanted to be the new single wasn't going to cut it... Labels, am I right? What resulted was a song built on a "joke riff" that was the "least Alt-J song ever" and pretty much means nothing, as they insist in
other interviews
. What resulted was "Left Hand Free."
"I can imagine it appealing to American truckers with Good Riddance To Bin Laden stickers!," singer Joe Newman said in the Guardian's interview… Yikes.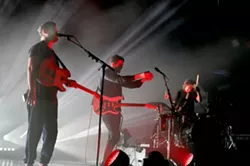 So, you know, if you like the song, please continue to. I just thought you should know that they're kind of making fun of us. If you can move past that, the number one thing you'll notice about seeing the band live is that they're one of the rare examples of live performances that sound studio quality every time.
Blending songs from
An Awesome Wave
and their newest release
This Is All Yours
, the crowd at Rialto Theatre last night seemed equally responsive to new and old tracks, even throwing up the requisite triangle during "Tesselate." With heavy bass and lighter, more agile melodic elements, the band's performance was funky enough to keep the crowd dancing throughout the set, but transitioned easily into the more delicate moments.
While starting with a one-two punch of the haunting "Hunger of the Pine" followed by the groovy, kind of creepy "Fitzpleasure" set the tone for the night, it seemed like the intense, cascading lighting was about as fun to watch as the band themselves, creating a strong visual component to accompany the sound. If you want to see a light show, they're the band to oblige.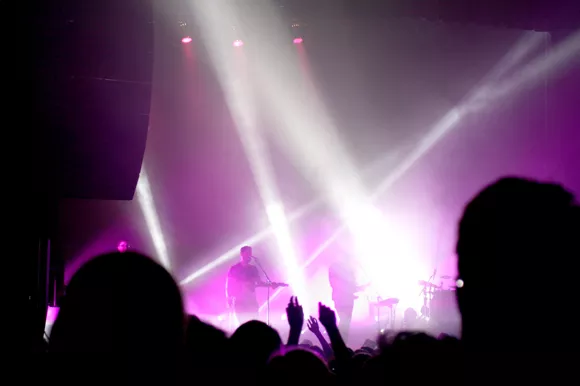 Overall, the live set was pretty near flawless, but that doesn't mean they even needed to play "Left Hand Free," which they did do about fourth. At least they got it over with and we all got to see Alt-J headline a relatively intimate venue compared to their booked gig headlining Madison Square Garden next year.