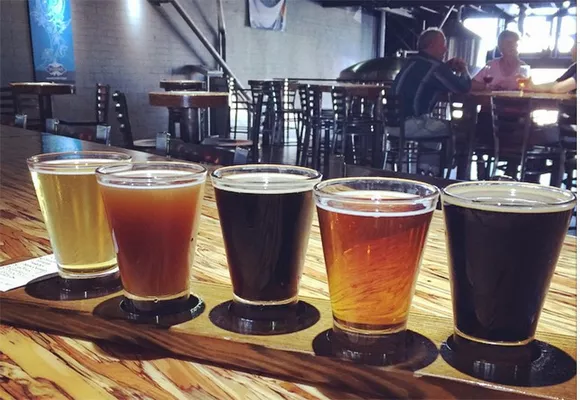 It seems like every week is a good week to be a beer geek in Tucson, but I have to say that this week is shaping up to be a particularly good one.
First off, Dragoon Brewing Company is expanding today and they're inviting fans of their craft brews to drop in from 3 until 10 p.m. to celebrate. Attendees can check out tours of the expanded brewery at 1859 W. Grant Road, Suite 111, along with plenty of new and old Dragoon beers and food from Zany Beaver and Black Top Grill.
If you can't make it out to that tonight, the tap room will be open thereafter Wednesday through Friday from 3 until 10 p.m., Saturday from 12 p.m. until 10 p.m., and Sunday from 12 p.m. until 5 p.m.
On Friday, Dec. 12 at 5 p.m., San Diego-based brewer Greg Hess will be bringing ten different Mike Hess Brewing Co. beers to the Tap & Bottle at 403 N. Sixth Avenue, Suite 135. With a little bit of every style, you'll likely find a new favorite or two among Hess' offerings, which include:
Habitus Rye IPA on Serrano Chiles
Grazias Vienna Cream
Coffee Grazias
Ficus Belgian Dark
Magna Cucurbita Pumpkin
Pershing Pilsner
Solis Occasus IPA on Nitro
Umbrix Rye Imperial Stout
Restauro Rye Weizen
North Park IPA
Both events are free to attend, which means you'll have more money to spend on beer and food trucks.