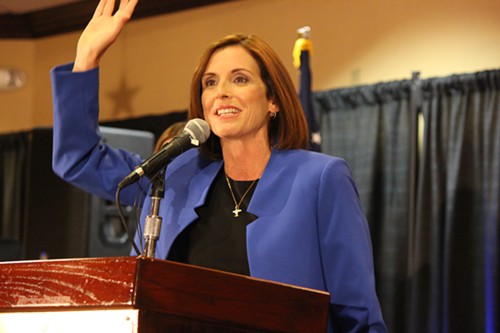 Jesse Webster
Martha McSally (R-Ariz.) thanks voters for their participation on Election Day 2014.
By Alison Dorf
At her election-night party Tuesday evening, Republican congressional candidate Martha McSally said she was proud of her campaign.
McSally was trailing Democratic incumbent Congressman Ron Barber by about 4 percentage points with an unknown number of votes left to count. McSally complained that she had faced a barrage of attack ads during her campaign that were ridiculous and inaccurate.
"The challenge has been again, countering the lying attack ads that are trying to turn me into something that I'm not in order to instill fear in the voters," McSally said. "So we've had to spend time to make sure that people know exactly who I am, correct the record, and you know, that'll take time and effort."
McSally said her campaign did everything possible to get her message out and election night was the time to celebrate the effort and the journey of the campaign.
"As a challenger, you're having to make a case as to why an incumbent should be replaced," McSally said. "I can look myself in the mirror and say we did that with integrity and we did everything we could to get our message out."
If she does not win the election, McSally said she does not yet know her next step.
"I can't even think about that right now," McSally said. "We'll see what happens."