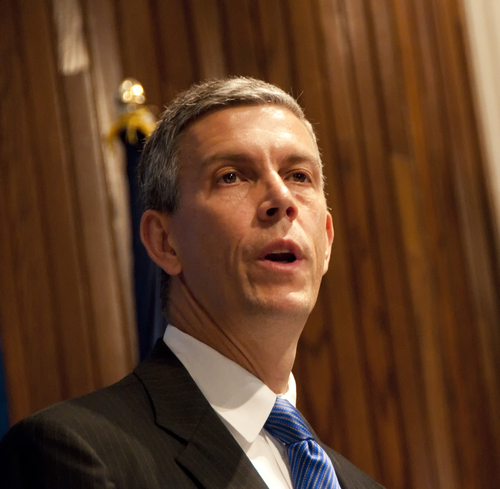 The answer to the headline's question — Did Arne Duncan Really Say, "Testing Is Sucking The Oxygen Out Of The Room"? — is no, he didn't really say that. What he really said was,
"I believe testing issues today are sucking the oxygen out of the room in a lot of schools."
There's a Grand Canyon-sized divide between seeing "testing," and "testing issues" as the problem. Duncan's remarks Thursday, where he said states can take a year longer to use high stakes test scores in teacher evaluations, probably reflect two issues. One, he's actually taken a few baby steps toward the realization that our obsession with testing is causing some negative consequences he didn't foresee. Two, he's scared crap-less about losing teacher support for Common Core. Teachers were leaning in his direction in the early implementation of the standards, but their support has been eroding steadily, as has the support of the general population. So Duncan is listening to teachers — he said that a bunch of times in his prepared remarks — and trying to gain back their confidence and support by saying, Clinton-like, "I feel your pain" when it comes to standardized testing.
Color me skeptical about whether or not Duncan has experienced a genuine change of heart on standardized testing. His statement is pretty weak tea. It sounds more like an effort to pacify educators than a commitment to change policy. On the other hand, he said some things that give me a tiny ray of hope that he, and, by extension, Obama, are beginning to realize the limitations and liabilities of our testing mania. It's not much, but it's something to build on.
A few quotes from Duncan's prepared statement:
"[I]n too many places, it's clear that the [testing] yardstick has become the focus."

"No school or teacher should look bad because they took on kids with greater challenges. Growth is what matters. No teacher or school should be judged on any one test, or tests alone — always on a mix of measures."

"No test will ever measure what a student is, or can be. It's simply one measure of one kind of progress. Yet in too many places, testing itself has become a distraction from the work it is meant to support."

"I'm concerned, too, when I see places where adults are gaming tests, rather than using them to help students."

"And we also need to recognize that in many places, the sheer quantity of testing — and test prep — has become an issue. In some schools and districts, over time tests have simply been layered on top of one another, without a clear sense of strategy or direction. Where tests are redundant, or not sufficiently helpful for instruction, they cost precious time that teachers and kids can't afford. Too much testing can rob school buildings of joy, and cause unnecessary stress. This issue is a priority for us, and we'll continue to work throughout the fall on efforts to cut back on over-testing."
Weak tea. Baby steps. But it's a starting point, a sign Duncan is beginning to feel the pressure. People need to continue the assault on our overemphasis on standardized testing to let Duncan know that his baby steps aren't nearly enough.
Tags: Arne Duncan , Barack Obama , Standardized testing , High stakes testing , Common Core