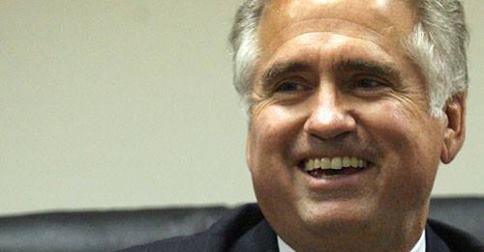 Poor John Huppenthal. OK, I didn't mean that, he deserves everything he's been getting lately. But the poor guy (didn't mean it that time either) can't catch a break. First, there are all those vile blog comments he made. Then there's the Common Core. His ardent, oft-stated support for what he's redubbed the "College and Career Ready Standards" will probably do him more harm in the primary than his blog comments, like the one calling people on public assistance "lazy pigs." The right wingers who always vote in large numbers in primaries are likely to be saying "Go John!" about the "lazy pigs" thing, but they hate the Common Core. So does Diane Douglas, Hupp's opponent in the Republican primary. He's got himself a problem.
Huppenthal went on the John C. Scott radio show last week, and he talked about Common Core. (He also talked about his prolific blog commenting, but that will have to wait for another post.) Sounds like Hupp has gone from a believer to an agnostic when it comes to Common Core. He's become an "I agree with all of you" kind of guy. On the one hand, he supports the standards, but on the other hand, "[W]hen you say I support Common Core, I would respectfully disagree."
According to the new Huppenthal, there are two definitions for Common Core.


"Here's the issue. There's two definitions of Common Core. There's a set of great standards that were created by Craig Barrett and the Achieve organization, and then there's another definition. That other definition is, it's a defamation of our Founding Fathers, it is an unbalanced debate and indoctrination into one side of the science debate. Instead of having a true scientific inquiry into climate change, it's an indoctrination. . . . So when you say I support Common Core, I would respectfully disagree. I am absolutely 100 percent opposed to that definition of Common Core."
Huppenthal talks about "two definitions," but he doesn't say which one is correct. Do the standards defame the Founding Fathers or don't they? Do the standards indoctrinate children on climate change or don't they? Never mind, he likes the first definition, which really exists, and doesn't like the second, which really doesn't exist at this point but the right is furious about it anyway. And he's got a solution — if he gets reelected, that is.


"We are going to have a thorough review. We're going to keep all the good stuff, and if there's crap in there, we're going to get rid of it."
Not too long ago, Huppenthal went on his 2013-14 Statewide Common Core Tour, talking up the virtues of Common Core to mainly conservative audiences, who hooted and hollered at him. As Thucydides, writing a comment on the conservative Education Action Network, he stated, "[T]hese are very good standards and completely conservative standards." According to Hupp, the detractors on the right just misunderstand the standards. He declared elsewhere that he was defending Common Core against "barbarians at the gate."
"I have put my career on the line to stave off the barbarians. I very likely could lose this election," Huppenthal said. "I'm okay with that because I felt I did the right thing for this education system."
I guess he's not so okay about losing the election now that it looks like it could actually happen.
But even back when he was defending the Common Core so ardently, in his secret heart of hearts, the one he revealed in his late night/early morning blog comments, Huppenthal was being driven crazy by the whole controversy. I know because he told me. I put up a post on Blog for Arizona in October, 2013, about a symposium on Common Core at the Capitol in which I wrote:
The takeaway from the symposium is, Arizona's hard right really, really doesn't like the Common Core, while Brewer and Huppenthal love it.
At 6:42am, using his Thucydides handle, Huppenthal commented:
Huppenthal doesn't love it, he hates it. He is just stuck with it.
That's the entire comment.
The mind reels. Does Huppenthal stand solidly behind the Common Core as he's said so many times? Does he hate it as he said in an early morning comment in 2013? Or does he agree with everybody who might possibly vote for him?