Tucson's Modern Streetcar
opening day launch
on Friday, July 25, saw over 17,000 passengers hop on board the much-anticipated transit system, according to the City of Tucson and the Regional Transportation Authority. 107-degree weather didn't slow down locals as eight Sun Link cars continuously took crowds of all ages down its 3.9-mile path from Friday at 10:00 a.m. until 2:00 a.m. early Saturday morning. Tucson City Manager Ricard Miranda declared the launch a "historic day for the City of Tucson."
Sun Link Project Manager Shellie Ginn said, "The Sun Link streetcar system had a great first day of service. We were able to provide a comfortable, cool ride for thousands of people and the streetcars were consistently overflowing with passengers." The cars were so full that many Sun Tran buses were used to accommodate the overflow.
As ridership slowed later into the evening, eight cars were reduced to six along the Sun Link route, which connects West Side of downtown from Mercado San Agustin to the lively heart of downtown on Congress St. and Broadway Blvd; the historical, cultural soul of Tucson, Fourth Avenue; and the University of Arizona campus. Sun Link service was free on Friday and will continue to be so through Sunday evening at 8:00 p.m., taking passengers to a series of five separate district celebrations along the route.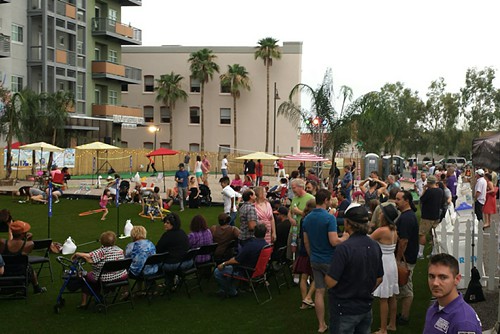 Within 30 minutes of opening, the MLK lot pop-up beach party already had scores of visitors enjoying beer, music, and games of volleyball & badminton; children instantly gravitated to the field of sand.
A jovial mood was omnipresent Friday, and could be seen on full display at the streetcar stop on Broadway and 6th Ave. as late as 1:30 a.m., as downtown bar-hopping regulars waited for their all-electric, made-in-America, thirty-ton designated driver to take them home. The streetcars will continue to run until 2:00 a.m. early Sunday morning to accommodate passengers taking advantage of several special events planned Saturday night along the route, including the Wet Hot American Block Party on the pop-up beach party MLK lot and Hotel Congress.