City of Tucson officials are seeing red over a modern streetcar parody Facebook page, "Ride the CLITT," which has exploded since its creation over the weekend, tallying up over 1800 "likes." The fake page will more than likely surpass the popularity of the official Tucson Modern Streetcar Facebook page by Monday afternoon. Before the source of the page was identified, a flurry of finger-pointing made the rounds in the usual downtown political circles, adding yet another layer of tension to what is already a sensitive issue for the city as it ramps up to the official streetcar launch celebration on July 25th.
Ride the CLITT and its sexually charged acronym C.L.I.T.T. (Community Link Integrated Transit of Tucson) has many Facebook users wondering if the parody site is an official, awkwardly titled Sun Link-sponsored page or an Onion-like parody. To further add to the confusion, official Sun Link press release posts are mixed with Ride the CLITT's own photoshopped maps and promotions, all of which are dripping with innuendos and double entendres.
The page is actually the mastermind of longtime local art activist and Food Truck Roundup creator David Aguirre. In a statement sent to the Tucson Weekly, Aguirre explained his motivation: "Ride the C.L.I.T.T. has a $100 budget for advertising on Facebook. With that, I've been able to bring Tucson's modern street car into greater awareness with the public. The public loves it's modern street car now, more than it did before Ride The CLITT showed itself. I hope the page will inspire others to get out there and make stuff up informing us who we are as a community." Aguirre also cited Seattle's similar "Ride The S.L.U.T" web prank as inspiration.
According to the TucsonSentinel.com, many at City Hall and some associated with the Regional Transportation Authority are not pleased, so far as even considering possible legal action. One city worker familiar with Aguirre's activities, but did not wish to be identified, told the Tucson Weekly, "I've heard about it, but I haven't paid much attention. Most of us are too busy making sure the launch is a success to worry about things like this." One former colleague had less kind words, accusing Aguirre of preying on Tucson artists as a "slumlord" while "pretending to be a champion of the arts" for years.
Aguirre is no stranger to controversy in Tucson's art community, from his ties to the Steinfeld Warehouse or Citizens Warehouse and BICAS, and like most local artists, has experienced friction when dealing with the city. As is the case with any polarized scene in our tight-knit community, emotions run high and loyalties often lead to exchanges like this back and forth, from the pre-online comment, snail-mail era of the Weekly, when a week's time between replies allowed such priceless quips as "Sounds like the pot calling the kettle noir."
A person who only wanted to be identified as a "former arts organization board member" had this to say to the Tucson Weekly regarding Aguirre's Ride the CLITT project:

It's sad that just when Tucson is marking an advancement that will help it move forward, that some people who have been profiting from Tucson's dysfunction are trying to undermine our progress. The author of this prank has long been pretending to be a champion of the arts but has, over many years, preyed upon Tucson artists as a slumlord, through the many master leases he's had in the warehouse arts district. He's taken control of multiple arts organizations and bled them of their resources for personal gain. Enough. I believe he fears that Tucson might be getting its act together, which would hurt his tried and true method of exploiting the local artist community.
In response, Aguirre told the Weekly, "That statement is so far out there, I wouldn't know where to begin to address it. I'm a long time advocate of the arts and innovation who's not afraid to put myself out there to get something done that is good for the community. Ride the CLITT is an example of that. There are far more people that are glad for it, but there are a handful who bring something else to the moment. I'm with those who are glad that someone is stepping forward and doing something positive, and fun and creative."
Aguirre's other current projects include the aforementioned Food Truck Roundup, the mobile art gallery Planet Rabbit and Dinnerware Artspace, where he serves as Executive Director for what is now Dinnerware's 9th incarnation.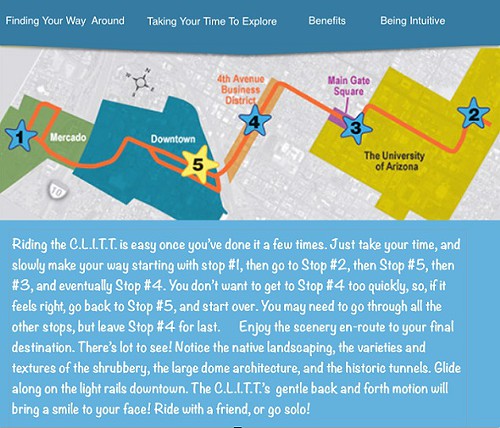 Prior to Aguirre's admission of his involvement in the streetcar parody, speculation over the identity of the prankster ran rampant through Tucson's political social circles, with rumors flying and pointing fingers opening old wounds. Stay tuned for the inevitable public statement from Sun Link, the city, RTA—whoever wants to touch this sticky situation.
David Aguirre's complete statement regarding Ride the CLITT:

On Facebook, "Ride the CLITT" reminds us that we needn't take ourselves too seriously. C.L.I.T.T. stands for: Community Link Integrated Transit of Tucson. The Facebook page was created on July 11th, 2014.

Tucson's Sun Link modern streetcar is changing our community. With that change comes some public anxiety.

There is plenty of information on Sun Link in pamphlets and online, but it's like having to take your vitamins: No taste, and not much fun swallowing it all. Why not a cultural, humorous, home grown approach to becoming more comfortable with the changes that Sun Link will bring?

In Seattle, there is something called "Ride The S.L.U.T" (ridetheslut.com), which is a humorous embrace of Seattle's changing culture, happening in part, because of their modern streetcar.

Ride The CLITT is about becoming more comfortable with the changes associated with Sun Link, which, has been going through testing for months. It's a mysterious beast with the computer bark. Until the public can ride it on July 25th, it's an empty robot passing through.

Ride The CLITT on Facebook: It's about adjusting to new things. It gets your attention from a different angle, and makes it fun and participatory, plus the concept is run by common people just doing their thing. Someone from the community puts energy into it, and everyone sees that, and appreciates that someone out there is doing something fun that they can participate in. It's an improvisational event unfolding on the Facebook page.

In Tucson, we have Tucson Eat Yourself, which has another, more formal name, too. It's creating a local lingo, and makes things more fun, and is not a slap on the event itself. In fact, just the opposite. Soon, locals will refer to Sun Link as "The Clitt", and they'll be proud of it, and they'll have to explain to visitors why they call it that, and they'll laugh.

In recent months, I've been asking myself: As a community, who are we? Who, and what, do we want to be? We are quirky in Tucson. We're independent. We're tolerant and we're thoughtful. We'e thinkers and partiers. We're musicians and artists and writers. So, let's create things that say that to the world.

To me modern streetcar isn't really about transportation. It's an identity adjustment opportunity.
I'm using humor to reveal truths. I want people to be able to see something from an unexpected angle.

What's the future of Ride The CLITT?

I still need to reveal the backstories of selected drivers and future riders, the streetcar fairies. And then, there's CLITT: The Movie still in pre-production, but getting close to casting. The story of the streetcar that didn't make the cut. Where is it now? Coming soon: Hi Fi on a train. And of course, Clitt Food Truck will be joining the Tucson Food Truck Roundup serving some very interesting tacos. Tshirts are in production and will be available for sale on July 18th.

Ride the C.L.I.T.T. has a $100 budget for advertising on Facebook. With that, I've been able to bring Tucson's modern street car into greater awareness with the public. The public loves it's modern street car now, more than it did before Ride The CLITT showed itself.

I hope the page will inspire others to get out there and make stuff up informing us who we are as a community.

David Aguirre
Creator of Ride The CLITT.